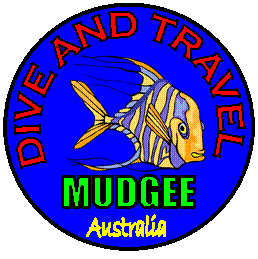 MUDGEE'S ONLY DIVE CENTRE

VIETNAM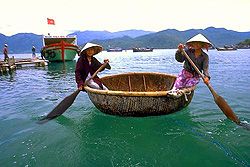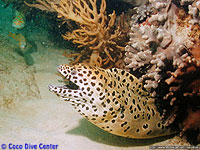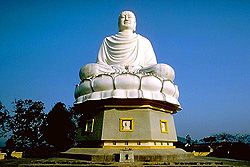 Click on the map to visit the Vietnam Tourism website: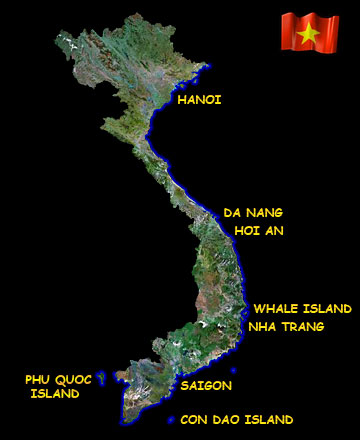 "Luscious beauty everywhere, from delicate design to technicolour sunsets.
Most visitors to Vietnam are overwhelmed by the sublime beauty of the country's natural setting: the Red River Delta in the north, the Mekong Delta in the south and almost the entire coastal strip are a patchwork of brilliant green rice paddies tended by women in conical hats.
There are some divine beaches along the coast, while inland there are soaring mountains, some of which are cloaked by dense, misty forests. Vietnam also offers an opportunity to see a country of traditional charm and rare beauty rapidly opening up to the outside world." Lonely Planet
General Information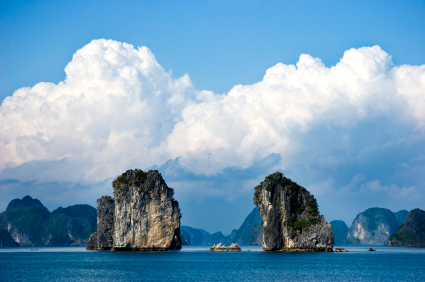 Mainland Territory: 331,211.6 sq. km
Population: 84 million inhabitants (in 2006)
National Capital: Hanoi

Lying on the eastern part of the Indochinese peninsula, Vietnam is a strip of land shaped like the letter "S". China borders it to the north, Laos and Cambodia to the west, the East Sea to the east and the Pacific Ocean to the east and south.
The country's total length from north to south is 1,650km. Its width, stretching from east to west, is 600km at the widest point in the north, 400km in the south, and 50km at the narrowest part, in the centre, in Quang Binh Province. The coastline is 3,260km long and the inland border is 4,510km..

Vietnam is also a transport junction from the Indian Ocean to the Pacific Ocean.

Climate: Vietnam lies in the tropics and monsoon
Topography: Three quarters of Vietnam's territory consist of mountains and hills

Diving

DIVING INFORMATION IS SUPPLIED BY RAINBOW DIVERS, VIETNAM

Click Here to visit their website.

CON DAO ISLAND

THE BEST DIVING IN VIETNAM

Situated 200 kms due South of Saigon (Ho Chi Minh City) these 16 remote and mainly unexplored Islands offer the best diving available in Vietnam. Some sites are hard to match in the rest of Asia.

The remote Con Dao group of islands is about 180km from Vung Tau, and has a local population of around 5,000. The main island, Con Son, was a much-feared former penal colony until 1975. Most of the archipelago is now a National Park with some good beaches, clear water with pristine coral, lush tropical forest with many
flowers, coconut groves, and few visitors are starting to generate interest in
visiting this largely unspoilt area.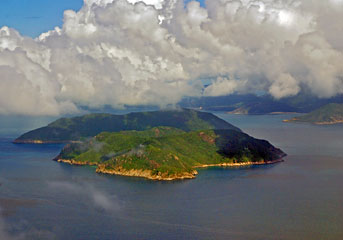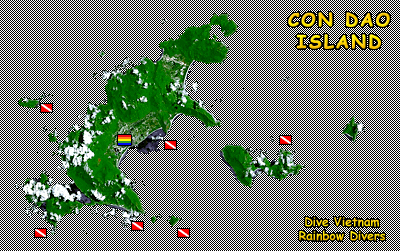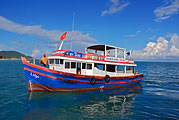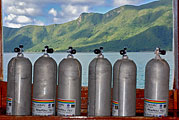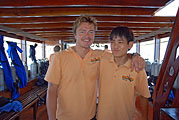 HISTORY

Once known as 'Poulo Condor' and long considered a Southeast Asian 'Devil's Island', Con Son is the largest island in the archipelago. The infamous Con Son prison complex was established by the French colonial authority early in the nineteenth century. From then until 1975 the French colonial administration, followed by the Saigon government, incarcerated political prisoners in brutal conditions, often in tiny underground boxes known as 'tiger cages'. The Hang Duong cemetery holds the remains of the many prisoners that died there.
Throughout the colonial period and its use by the Saigon regime, Con Dao's only inhabitants were the prisoners, their guards, and a small contingent of soldiers and administrators. The true extent of the appalling treatment of inmates only became known after victory and reunification in May 1975. Since then, a small town has developed on the western side of Con Son in and around the old penal colony complex. It's an attractive community with excellent civic amenities and a road layout that would put most Vietnamese towns to shame, despite its size.

THE WEATHER
Con Dao is located at a point where cool and warm ocean currents converge and create a localised climatic system. From June to September, frequent fierce squalls buffet the west facing aspects of the islands whilst the east is sheltered. In September, the currents and winds reverse thus exposing the east of the islands to bad weather until January. The weather is calm all over the archipelago during the remainder of the year. This unusual weather pattern allows swimming, snorkelling and diving to be an all-year-round activity.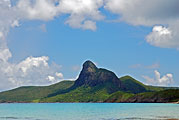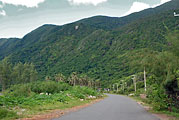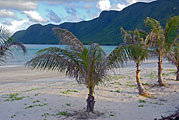 CONSERVATION EFFORTS

The World Wide Fund for Nature has been active in protecting sea turtles and dugong. Since 1995, more than 300,000 baby turtles have been released to the sea and nearly 1,000 mature turtles have been tagged.
Con Dao National Park is now considered one of the best examples of marine conservation in Vietnam, complete with regulations to limit fishing activities and prohibit destructive fishing, and is a model for marine conservation throughout the country. There are plans for eco-friendly development within the park's boundaries.

The entire marine area is rich in biodiversity: over 1,300 species of sea animals have already been identified. The ecosystems on Con Dao are favourable habitats for rare species such as the Hawksbill, Green Turtles & Dugong, the strange creatures popularly known as 'sea cows' and believed to be the source of the 'mermaid' legends from their habit of sunbathing on rocks.

There are many outstanding dive sites offering sightings of dolphins, turtles, sharks, rays, bump head parrotfish and dugong as well as a wide range of other species. Con Dao is definitely a place for nature lovers, but also an opportunity to visit an unspoilt tropical island before development.
NHA TRANG
The majority of the dive sites are within a 1 hour boat ride (or 15 minutes by our speedboats) from Nha Trang to the stunning nearby Islands of the Hon Mun Marine Park. This represents the BEST diving in The South China Sea. Some favourite diving spots are:
The weather obviously dictates diving conditions, but normally visibility is 10 - 30 metres and water temperature between 22 - 30c.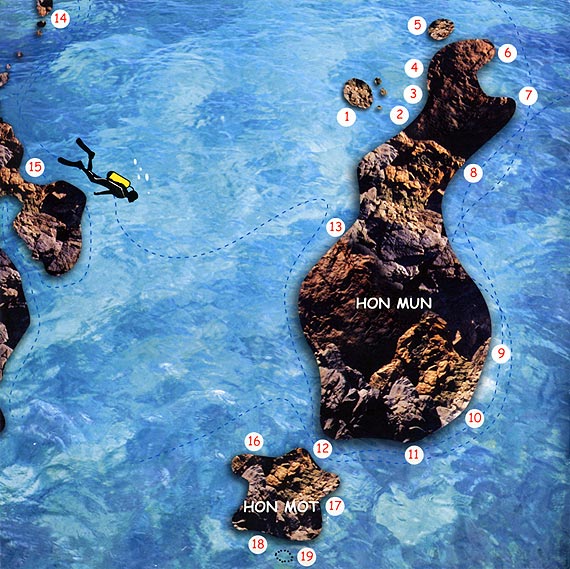 Madonna Rock. 5-25 metres. Hard Corals. Swim Thru's.

Hard Rock 2. Wall dive to 15 metres. Hard corals.

Hard Rock 3. Wall dive to 20 metres. Hard corals.

Hard Rock 1. Wall & Cavern dive to 25 metres.

Goat Rock. Wall dive to 40 metres.

The Range. Wall dive to 25 metres with caverns.

Tiger Wall. Wall dive to 25 metres.

Debbie's Beach. 15 metres. Outstanding hard & soft corals.

Dopey's Ear. 18 metres. Wall & Pinnacles.

Rainbow Reef. 20 metres. Outstanding hard & soft corals.

Moray beach. 20 metres. Hard & Soft corals. Giant Morays.

Seahourse Bay 1. 15 metres. 'Muck diving'.

Mama Hahn beach. 18 metres. hard corals.

Electric Nose. 45 metre wall dive. Currents. Advanced only.

Bob's House. 25 metres. Hard & Soft corals.

Uta bay. 15 metres. Sandy & rocky.

Hon Mot East. 20 metres. Outstanding coral garden.

Seahorse Bay 2. 18 metres of 'muck diving'.

Hamburger Hill. 20 metres. Rocky pinnacle with soft corals.

WHALE BEACH (Near Nha Trang)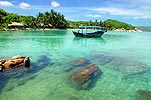 The Island has been associated with Scuba Diving for many years. For example, did you know that it was here on Whale Island that Jacques Cousteau first discovered his passion for diving!
The island offers a wild and natural environment where the marinelife, flora & fauna are a nature loverís dream, both above and below the water!

The diving here is perfect for beginners and experienced alike. There is safe & simple diving from the beach to a maximum depth of 15 metres. The morning boat dives offer more exciting & adventurous diving; wall dives down to 40 metres, coral gardens at 10-15 metres, racing drift dives and of course less strenuous Nudibranch spotting! Whales, sharks & whale sharks are unfortunately not so regularly seen: same for rays and big pelagics!.
One good point of Whale Island is definitely in its underwater landscape, Vietnam starts to be a diving destination, and the diversities of coral as well as the other components of the submarine fauna, like nudibranches, contribute to the reputation of the place.

The diving is from January 15 to October 15.

Some Sites:
Hon Trau Nam or Three Kings
It is the most beautiful site. But only for experienced divers. Yellow, purple or white Gorgons, labyrinths and caves, about thirty sea slugs species. You may meet sting rays, manta rays and even whale sharks.

Hon Kho Trang
A rocky islet reached from the resort in 90 minutes, inhabited by sea birds.
Two dive sites.
On the first one, 20 m dives around and inside rocks piles sheltering fishes and sea slugs. Sun lighten the bottom playing with the waves. For experienced divers. On the second one, we dive close to a 18 m deep fall and discover a marvellous soft and hard corals garden. Tropical fishes will seduce every standard diver.

Hon Tai or Ear Island
Dive for both experienced and beginners over a coral plateau where divers can meet Nurse or white tip sharks. Look on the coral tables, black red frogfishes are laying on as well as big sized sea slugs. This site is one of the most visited.

Hon Lon
Rocks and corals in shallow water, and deep dives in day and night time, when visibility is good.

Napoleon Rock

This site is sheltered from bad weather conditions. Coral gardens are separated from each other by sandy bottom areas which allow discovery diving as well as all courses training. And you could be distracted by a napoleon wrasse school.

The Dry
Here is the place for experienced divers to dive in the blue or to dive around the rock at different depths to admire sea slugs and meet moray eels.

Mui Ganh

On the North part of the Large Gate. A lot of scorpion fishes like this place which can be visited by every diver standard half part of the year.

Raoul's Reef
Feather stars cover the wall, where a lot of ghost pipe fishes are hidden. This is a very good second dive with porits, acroporas corals. For all standards.

Bai Su

Labyrinths and caves at Ė15 meters. Photographers will enjoy shooting with macro gymnodoris along the fall, chromodoris crawling on the rocks or Spanish dancer swimming. Particularly beautiful by night. Dive for every standard.

Mui Co or Nudibranchs House
Its name is due to the abundance of sea slugs. There are lots of big fishes passing through this area, rays, groupers and reef sharks. It's a permanent show, and you never know where to turn yourself to admire nudibranchs on the bottom or fishes over your head.

Vem's Rock

In memory of a famous boat captain who helped us to discover this labyrinth. Out gate in a cave sheltered by a big rock. Strong air puff from the breaking wave. Easy dive at 15 m ending over a beautiful coral garden.

Elin's Reef
In memory of a nice Swedish instructor woman who found the site. Here is the most beautiful coral of the area and the best place for try a dive.

The Beach

Here can be effected everything from try a dive to assistant instructor course. And you will appreciate to learn over an artificially fixed coral garden.

Hon Ong Night Dive This is a great opportunity to experience all the different animals that come out at night after hiding among the corals in the day. There are Sea Horses, Shrimps, Crabs, giant Spanish Dancer, and some beautiful Clown Fishes sleeping in their sea anemones. Depth on this is 3 to 12m and a pleasant relaxed dive.
PHU QUOC ISLAND.
A VIETNAMESE ISLAND...
IN THE GULF OF THAILAND...
OFF THE CAMBODIAN COASTLINE...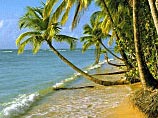 This beautiful island lies 65 miles off the south-west coast of Vietnam and is genuinely unspoiled by time & tourism. Travelers say that "Vietnam is like Thailand 20 years ago". If that's true, then Phu Quoc is like Vietnam used to be 10 years ago!
Phu Quoc is about the same size as Singapore, 600 sq. kms and is the largest of all Vietnamese islands. There are 99 mountains and hills covered in green primitive forests with majestic waterfalls and babbling streams. The fresh sea breezes and stunning sandy beaches touching crystal clear blue waters make this a true paradise.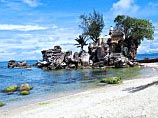 The tourist season is similar to Thailand's. The good weather and clear waters start mid November and last until early June. Then the rainy season usually starts and diving conditions are not so good. This however compliments diving in Nha Trang & Whale Island where the rainy season can begin mid November till early January.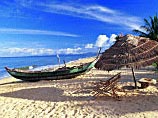 The hard & soft corals are pristine around the mass of small islands to the South and are home to a huge variety of small colourful reef/coral fish, many of them endemic to the Vietnamese waters. At times it is difficult to see the corals due to the masses of Fairy Basslets & Damsel fish! The mysterious Dugong has also been sighted here!
Hyperbaric chambers are located in Nha Trang, Quy Nhon and Vung Tau.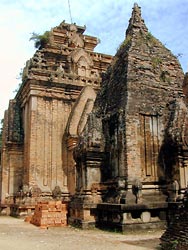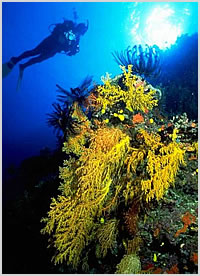 Travel Tips
Languages:
Vietnamese is the official language. Most tourist guides speak English, Chinese, French, Russian and Japanese.

Currency:
Vietnamese dong (VND)Symbol: þ
Paper note denominations: VND 500,000; 200,000; 100,000; 50,000; 20,000; 10,000;
5,000; 2,000; 1,000; 500; 200 and 100. Coin denominations: VND 5,000; 2,000; 1,000; 500 and 200. Credit cards are popularly used, especially in cities and big tourist
centres.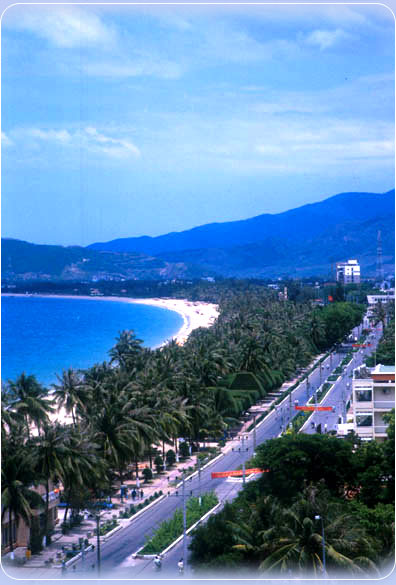 Health:
Doctors and hospitals expect cash payment prior to providing medical services, including for emergency care!
Air evacuation to Bangkok by air-ambulance from Hanoi or Ho Chi Minh City may be required in cases of serious illness or accident. Costs would start at A$12,000 and could cost as much as A$25,000.
The mosquito-borne illnesses dengue fever and Japanese encephalitis occur in Vietnam, particularly in the south. We recommend you take measures to avoid mosquito bites including using insect repellent at all times.
Outbreaks of water-borne, food-borne, parasitic and other infectious diseases (including HIV/AIDS, hepatitis, rabies, typhoid, tuberculosis, and meningitis) occur from time to time. We encourage you to discuss your vaccination requirements with your doctor before travelling.
On 6 November 2007, the Vietnamese Ministry of Health confirmed an outbreak of cholera in the capital Hanoi and surrounding Northern Provinces.
We advise you to boil all drinking water or drink bottled water, avoid ice cubes and raw and undercooked food, and avoid unpasteurised dairy products. Seek medical advice if you have a fever or are suffering from diarrhoea.

Visas:
You must obtain a visa prior to arrival in Vietnam. Your passport must have at least six months remaining validity at the time of arrival in Vietnam.
Electricity:
Electrical Plugs
220V 50Hz
Tipping:
Tipping is not obligatory however, if you meet with exceptional
services or kindness, a tip is always appreciated. A tip for good service might be about 5% of the bill.

Dress:
Appropriate dress differs from North to South. Southern Vietnam is tropical year round and people dress comfortably and casually. Lightweight cotton and wool fabrics will be comfortable at any time of year. While they may resist wrinkles, synthetics and are blends miserably hot. Generally, short pants are inappropriate anywhere but a beach resort or a farm and you will look like a foolish tourist on the streets of most cities. Jeans are almost always fashionable except for business occasions.

Winter (November through April) can be cool in Hanoi, and a coat may be necessary. Dress here is a bit more formal and somber than the fashionable South.
Remember thatVietnam is a tropical country. Most of the year it is warm and humid. If you are not used to tropical weather, be prepared to shower and change your clothes two or three times a day. During rainy season in Saigon the rain is often short (20-30 minutes) and some times quite sudden. Practically every hotel inVietnam has laundry service, which is usually quite inexpensive

Climate:
With there are no good or bad seasons to visit Vietnam. When one region is wet, cold or steamy hot, there is always somewhere else that is sunny and pleasant. The south has two seasons: the wet (May to Nov wettest is June to Aug) and the dry (Dec to April). Hottest and most humid end of Feb to May. The central coast is dry May to Oct. The highlands are much cooler than the lowlands with temperatures reaching freezing in winter. The north has two seasons: cool damp winters (Nov to April) and hot summers (May to Oct). Typhoons are possible from July to Nov, affecting the north and central areas. Travellers should take the Tet Festival into account when planning a trip (late Jan to early Feb). Travel (including internationaltravel) becomes very difficult, hotels are full and many services close down for at least a week.
The influence of the monsoon
With a multitude of altitudes and latitudes there's always somewhere that is pleasantly sunny and warm if you're prepared to find it. Temperatures are usually hot and humid, around the low 30°Cs (high 80°Fs), but if you head north and along the coast they cool down to comfortable temperatures towards January. The weather is determined by two monsoons; the winter monsoon comes from the northeast between October and March bringing wet chilly winters to all areas north of Nha Trang, but dry and warm temperatures to the south. From April or May to October, the south western monsoon brings
warm, humid weather and buckets of rain to the whole country except for those areas sheltered by mountains.
Departure Tax:
The departure tax at most airports for international flights is US$12, payable in US$ or VND
Water Temp:
Varies from 20° C to 30° C, depending on the location and time of year.