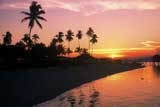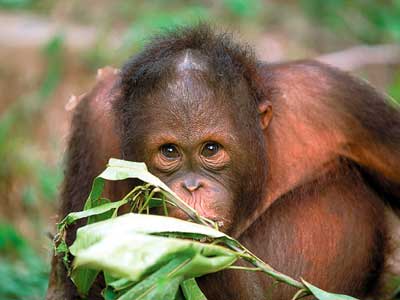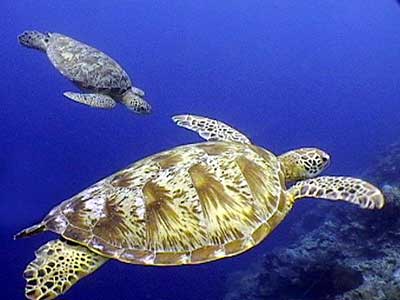 Popular Destinations In This Region:
Borneo Sabah

Kapalai

Kota Kinabalu

Labuan

Lankayan Island

Layang-Layang Island

Mabul Island

Mataking

Sepilok

Sipadan Island
Malaysia is split into two bodies of land, forming a tropical archipelago of some of the most picturesque islands on Earth. Sitting right at the heart of South-East Asia, the two lands are separated by the clear, warm waters of the South China Sea and most bio diverse marine waters in the world.
Malaysian Peninsula bordering Thailand to the north is home to the capital, Kuala Lumpur. This vibrant city is a mixture of western influences with eastern cultures and is renowned as a shoppers paradise.
Borneo (Sabah): The State of Sabah, sits at the tip of the island of Borneo. Sabah is considered to be one of the most biologically rich regions on the planet. Lapped by the South China Sea on the west and the Sulu and Celebes Seas on the east, Sabah is covered in lush rainforests with an unsurpassed collection of plants and animal species.
Off the coast of Sabah lie the neighbouring islands of Sipadan, the crown jewel of Malaysian diving, Mabul, Kapalai, Labuan, Lankayan and Layang-Layang, all of which could be on the world's "best dive sites" list. Just to the north of here lie the southernmost islands of the Philippines.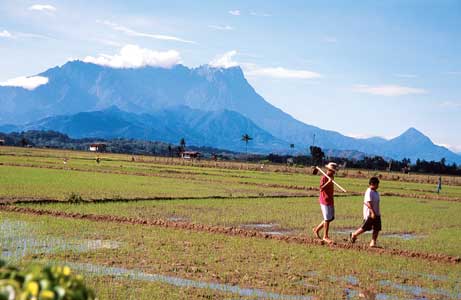 Kota Kinabalu, is the capital of Sabah, and the gateway to a tropical paradise of natural wonders, scenic beauty, rugged landscapes and cultural diversity. The people of Sabah are a warm and friendly mixture of cultures and religions, with over 32 indigenous ethnic groups. Many cultural and religious festivals are performed throughout the year displaying magnificent traditional costumes and ritual dances.
A wide range of water sports are available including snorkelling, kayaking, jet-skiing, para-sailing, water-skiing and game fishing. Other activities available are white water rafting, sky diving, caving and jungle trekking. You could even take a two day climb to the summit of Mount Kinabalu, the highest mountain in Southeast Asia, at 4,095.2 m.
For the nature lover visit Kinabalu National Park an UNESCO world heritage site famous for bird watching. Discover spectacular flora like the Pitcher plant and the Rafflesia, the largest flower in the world. Visit the local wildlife parks such as Sepilok Nature Reserve and meet the famous "Wild Man of Borneo", the Orang-Utan and other exotic wildlife like the Asian Elephant, bizarre looking Proboscis Monkeys an the rare and endangered Sumatran Rhino.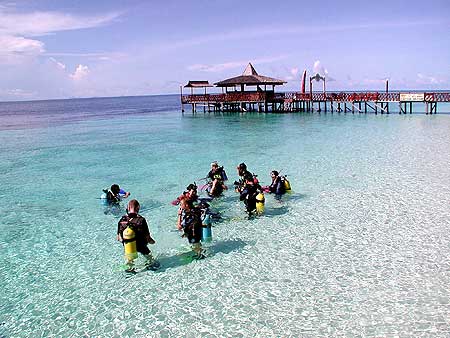 SCUBA DIVING IN BORNEO, MALAYSIA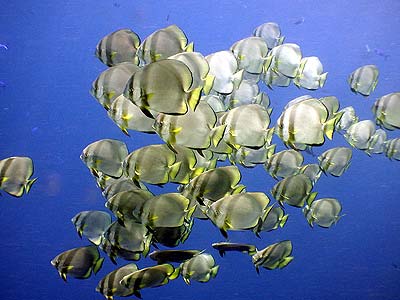 Sabah has been voted one of the worlds top diving locations. The island of Sipidan, off the east coast of Sabah, was endorsed as one of the top dive spots by world- renowned diving legend, Jacques Cousteau. From macro life to pelagic, wreck diving to wall diving, coral gardens teeming with a rich diversity of corals and fish, underwater caves with sleepy sharks and a cavern where turtles go to die - the diversity will amaze.

Some 3,000 species of marine creatures, were first found and classified while diving the sites in Malaysia, such as Sipadan. Layang-Layang and Lankayan are the latest hot destinations that offer frontier diving if you're looking for something new and fresh. Lankayan has seasonal whale shark sightings and Layang Layang offers some fabulous encounters with pelagic. Labuan is famed throughout Asia for its wreck diving. Mabul and Kapalai are world-renowned destinations for muck diving.
Malaysia Travel Tips
Electricity: Malaysian electricity voltage is on a 240 volt 50-cycle system.
Climate: Equatorial/Tropical - temperatures range between 22°C and 33°C throughout the year. The climate is influenced by the Northeast and South-West Monsoons, which blows alternately during the year. The North-East Monsoon blows approx. from November till April, hence bringing heavy rain to the east coast of Peninsular Malaysia, Sabah and Sarawak. The South-West Monsoon season is a drier period for the whole country. (Humidity: 85 % to 95%). Generally the best time to travel is between April and October, but diving is year-round.

Visas: Valid passport /travel document required. Australian passport holders do not require visa for Social Visit- duration of up to 3 months. Other passport holders please contact the appropriate authorities regarding Visa requirements.

Currency / Banking: Ringgit Malaysia (RM), money can be exchanged at most hotels, banks and the airport. Major banks and money exchanges are located in Kota Kinabalu and are open from 9:30am to 3:30pm from Mon–Fri and 9.30am to 11.30am on Saturday. Visa, AMEX and Master cards are widely accepted.

Eating & Drinking: Tap water is generally safe for drinking. Hotels usually provide bottled water for guests in their rooms.

Health: Yellow Fever vaccination is required for all visitors coming from infected areas or endemic zones. Those visiting remote villages are advised to take malarial medication. For other health requirements please check with appropriate authorities.
Language: Bahasa Malaysia is the official language but English is widely spoken and understood.

Tipping: A service charge of 10% and a government tax of 5% are added to bills in all hotels and tourists class restaurants. Tipping is not mandatory.

Dress: Informal & comfortable clothing (e.g. lightweight linens & cottons, T-shirt, shorts). For dinners and nightspots, smart casual wear is the norm. There are accepted dress codes at certain places, such as taking off shoes before entering a house. Topless or completely naked sunbathing is not allowed.

Water Temperature: Summer: 24-29°C, winter: 22-25°C.