APOLLODIVER PROPULSION VEHICLES (DPV'S) / SCOOTERS
GRANT'S PRICE - TAKE 10% OFF THE RRP!!
AV-2 EVOLUTION SCOOTER RRP $4950
AV-2 Evolution Scooter - Li-FE-Po Battery (NSN: 4220-66-158-6259)
Control or Battery Life indicator Li Po Battery 25.6V-20Ah Batteries are interchangeable but require different chargers

Shock-resistant ABS resin body & DC Brushless motor

Three speed variable pitch propeller

Progressive

acceleration system

Standard acceleration system on/off

Thermal switch protection automatically switches off if overheating occurs Approx 21.5kg on the surface / -1.3kg buoyancy underwater

Dimensions: 720 x 340mm Rated to 90 meters Includes hand free saddle and multi-rider wings

Includes battery and charger Speed: 0 - 4 km/hour Up to 120 minutes continuous operation in hands free riding position

Average Cruising Range: 7200 - 8000m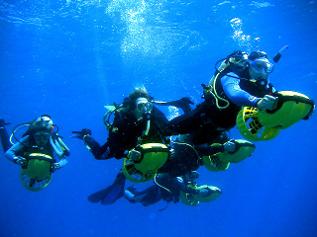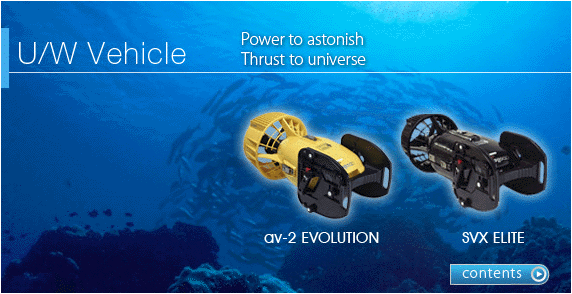 Hands Free Riding Style
Travel at top speed. Coast by your dive buddies twisting and turning like a dolphin. Literally dive circles around them. The hands free riding saddle helps you move like you were born to dive. steering is achieved through body positioning. A built-in arm extends trigger switch access forward for a more convenient placement. Both hands are free to extend like an airplane or maybe just to hold cameras, lights, and other accessories essential to your dive. More than just a fun ride. There are many practical reasons for saddle use. Use of an underwater vehicle in general can reduce your air consumption by up to 50%. The saddle places you and the vehicle in a more streamlined position.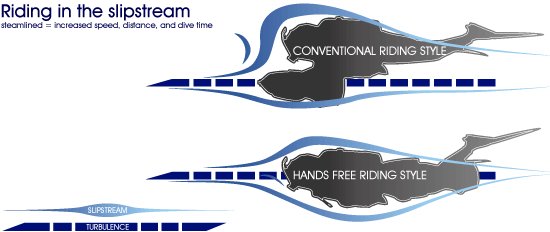 Being dragged long distances creates excessive muscular fatigue in the arms. Furthermore, riding behind a scooter creates resistance and reduces the efficiency of the propeller blades. Riding horizontally in front of the scooter streamlines the body and scooter, reducing drag and dramatically improving both speed and distance travelled on a single battery charge. In addition, both hands are free for carrying lights, cameras or other underwater equipment.
Wing
By using the Wings it's now possible to pull 2 more divers with the av-2 EVOLUTION. The diver's different physiques when holding onto the wings have virtually no effect on the scooters performance. The speed and distance with 3 men diving are almost the same as using the scooter solo without a saddle.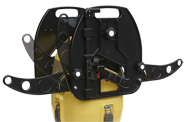 3 Speed adjustment - Propeller pitch assembly
Additionally it is possible to easily vary the propellers angle or pitch, which allows for even more fine-tuning of the scooters speed to the individual divers needs.

UNDERWATER SCOOTER AVX RRP $13999
Underwater Scooter AVX (NSN: 4220-98-207-9011) Do you need a scooter that is fast, goes a long way and is reliable? You just found it!!! After over 20 years of making underwater scooters the new apollo AVX scooter uses all of Apollo's underwater scooter technology Apollo's advanced underwater vehicle can be used for Military, Commercial or Recreational use.
MAIN UNDERWATER SCOOTER AVX FEATURES
The Underwater Scooter AVX is equipped with an incredibly high efficiency brushless motor and driver

Specially customized 1000Wh LiFePO4 Lithium ion battery for extended dives

Heavy duty and high water pressure-resistant full-aluminum body Apollo's innovative hands free riding system (saddle riding) and high efficiency adjustable pitch propeller are supplied as standard

The Underwater Scooter AVX is capable of more than 30km! (*1)

The Underwater Scooter AVX is capable of underwater speeds over 5.2km/h! (*2) Innovative scooter accessories are available such as a single-hand unit that is attached for specific purposes like cave diving! The Underwater Scooter AVX is made in Japan using the latest components and electronics available today!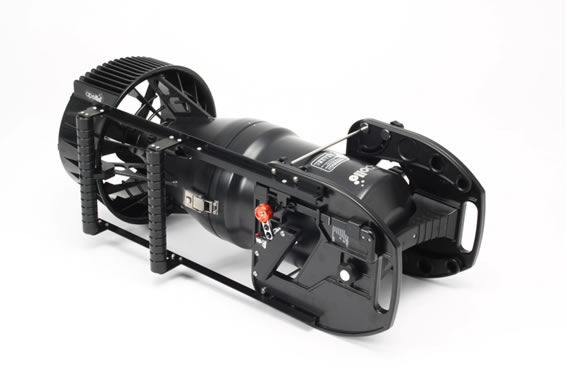 The Apollo Underwater Scooter AVX is built Tough
The majority of the Underwater Scooter AVX external body is made from high quality aluminum alloy
The front and rear sections of the Underwater Scooter AVX are made using a high tech and extremely accurate NC spinning machine
The maximum depth rating for the Underwater Scooter AVX 130m
*1 ?3.0km/h speed at propeller pitch 2 with saddle-riding,
*2 ?Propeller pitch 2 with saddle-riding,
The numerical value fluctuates by a state of the build of the user and the battery.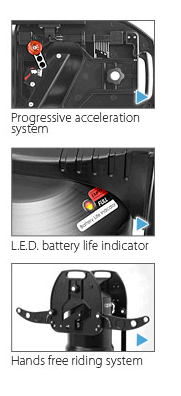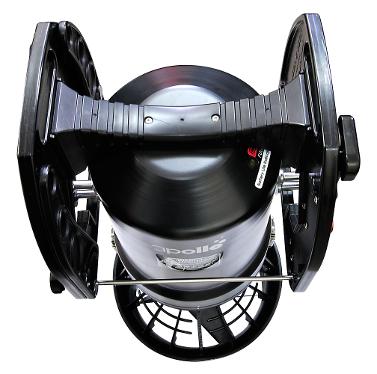 SINGLE-HAND UNIT
Single hand riding gear for Apollo Underwater Scooter AVX:
Easy to control
Attaching the riding gear is simple to do
Ideal for cave diving
Underwater Scooter AVX
Specifications

Outer dimensions: 806mm x 390.5mm x 340mm

Weight: 24.2kg (with battery) 14.2kg (without battery)

Underwater Weight: - 0.75kg

Maximum depth: 130m

Maximum range: 30km *1

Speed: 0~5.2km/h *2

Max thrust force: 206N at pitch 2

162N at pitch 3

Pitch 1 has been de-activated.

Battery Type: LiFePO4 Lithium ion battery 51.2V 20AH

Battery charger: output 4A charge 5~6 hours input AC100~240V?50/60Hz

AVX body colour: Black

EASY MAINTENANCE
In general many scooters have leakage weakness around the sealing area on the propeller shaft. We specially designed a double sealing system for propeller shaft by building a small watertight compartment between the first seal and the second seal.

LiFePO4 1000Wh battery for AVX Underwater Scooter
LiFePO4 Lithium ion battery 51.2V 20AH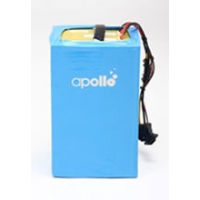 Battery charger for AVX Underwater Scooter
Output 4A charge 5-6 Hours
Imput AC100-240V 50/60Hz
The numerical value fluctuates by a state of the build of the user and the battery