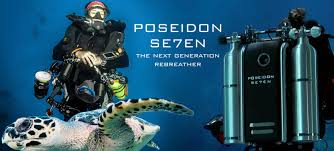 Se7en Core Unit RRP: $9,995.00
In a world full of compromise, we escape by
visiting the one place that doesn't: the ocean.
Yet when we get there, we are forced to
compromise. Not any more…

Designed, built and tested to perform in all conditions,
the POSEIDON SE7EN is the next generation rebreather.
Safety, performance, ease of use and desirability are
combined to enable divers of all abilities to experience
the underwater world without compromise.
Whether you want to get closer to marine life, spend much
more time underwater, dive deeper or simply enjoy the
bubble-free silence, the POSEIDON SE7EN is the smartest,
fastest, safest way to dive.

The POSEIDON SE7EN – one day, all rebreathers will be like it.
The SE7EN has big advantages over traditional open circuit equipment:
Get closer to marine life

Much more time underwater

Patented safety technology

Plug and play

Expandable system

Proven Performance
NOTE: Does not include cylinders, lungs or accessories.