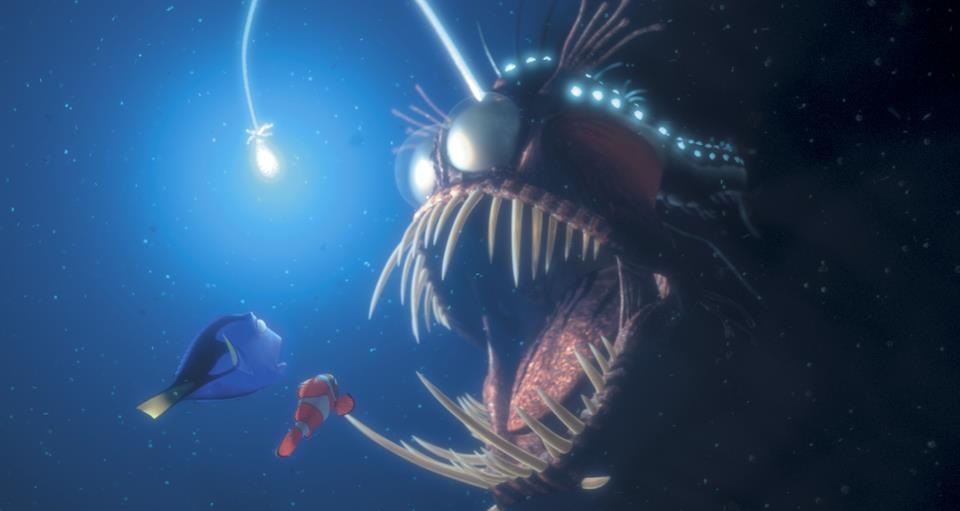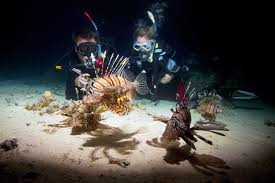 grant's price - take 10% off the listed rrp!!* (*SOME EXCLUSIONS APPLY)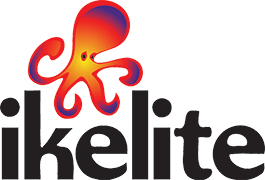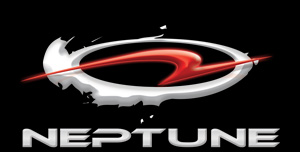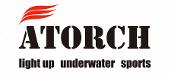 Colour is everywhere underwater, but as a diver, you would be aware that without artificial light, the colours become muted as you descend. Using lights fills in the lost colour. Different diving situations require different dive lights. Dive lights vary in brightness, beam pattern, burn-time and size. Experienced divers have found that no single light is adequate for all situations.
CHOOSING A DIVE LIGHT
BULBS
The bulbs used in dive lights are classified according to the material that generates the light. With diving lights, the whitest light will result in the truest colours underwater. Typically, these are:
Halogen
Xenon
LED, or

HID
Halogen bulbs are the cheapest, but produce the least white light. Commonly, they have been the primary choice for dive and video lights. They are largely being replaced with HID lights.
Xenon bulbs are a good balance between brightness, cost and burn time. Many older popular dive lights use Xenon bulbs.
LED's offer comparable or better brightness to Xenon bulbs, but use far LESS power and therefore give substantially LONGER burn times for any same given battery supply. They are also the HARDIEST bulbs with the LONGEST expected bulb life. These types are the most popular dive lights, however are more expensive than Xenon bulbs. They are however, much cheaper than HID.
HID's are the BRIGHTEST and provide a lot a light for the power they consume. The drawback is that HID lights CANNOT be repeatedly turned on/off, without excessive battery brain and wear on the bulb. Generally, you turn them on just before entering then leave it on until you exit the water again. Also once turned on, you must wait several minutes before turning off. HID's also generate a LOT of heat.
REFLECTORS
Reflector shape also greatly affects a light's characteristics. They either concentrate or spread the beam. A concentrated beam is brighter, however a beam with greater spread has better coverage, - so a balance needs to be made depending on what you are doing with the light.

GRANT'S PRICE - TAKE 10% OFF THE LISTED RRP!!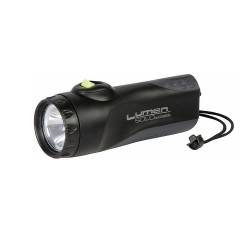 The Lumen LED uses 4 low energy consumption LEDs with high-lighting efficiency. It is fitted with an electronic circuit ensuring the best power supply while protecting the LEDs. The power supply is provided by 6 C-size batteries providing more than 8 hours autonomy. It is completely water-tight and provides added protection against accidental water infiltration.
Also available with a Halogen Globe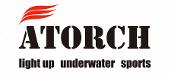 GRANT'S PRICE - TAKE 10% OFF THE LISTED RRP!!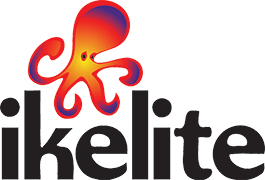 GRANT'S PRICE - TAKE a further 10% OFF THE LISTED discounted net price!!

CONTACT US FOR CURRENT PRICING AS PRICE IS DEPENDENT ON THE CURRENT EXCHANGE RATE - DELIVERY ABOUT 14 DAYS