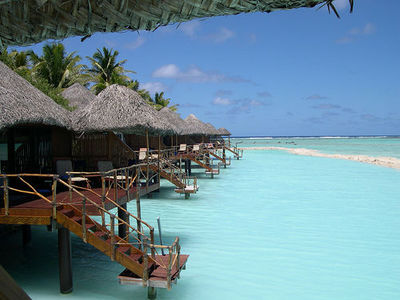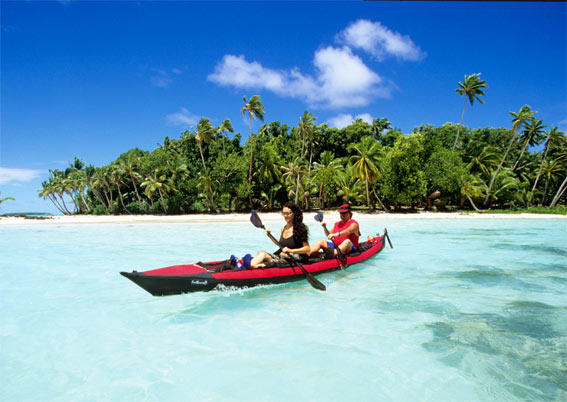 Click on the map below, to go to the official website of the Cook Islands Tourism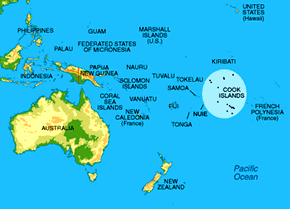 Wafer-thin cays and far flung atolls, white-sand beaches and lush green volcanic mountains, a slow pace, friendly people, dancing - what's not to like about the Cook Islands? If that's not enough, they also have excellent hiking, snorkelling, diving, caving and lazing.
Comprising 15 islands in the heart of the South Pacific spread over an area the size of India with a population no bigger than a small Australian country town - 16,000 people. These unique and friendly Polynesians have their own language and government and enjoy a vigorous and diverse culture with significant differences between each island.
Despite some 100,000 visitors a year to the capital island Rarotonga, the Cook Islands are largely unspoiled by tourism. They offer a rare opportunity for people from the cities of the world to experience a different type of vacation. There are no high-rise hotels, only four beach buggies and very little hype. Ideal for travellers seeking more than the usual clichés associated with the South Seas, each island has its unique qualities and offers the visitor a special experience.
The Sites:
Rarotonga is home to some of the best and most diverse diving in the Pacific - there are about 40 dive sites around the island and, of these, there are 17 that are consistently better than the rest. We only dive the very BEST sites around Rarotonga - the ones we LOVE to dive! Listed below are some of these along with a brief description of each to whet the appetite!
MARITIME REEFER 24m - 30m: Advanced OW+
The Maritime Reefer was a large fishing vessel sunk by Dive Rarotonga in 1981. Subsequent cyclones have since broken up the wreck into 2 main sections and left it in 24m of water. With a resident giant moray, plenty of lionfish, as well as the usual suspects, this is a picturesque advanced dive in a rich reef area.
THE CAVES 6m - 16m: All
A shallow, curving coral shelf leads to swim through caves with overhead breaks to the surface. The caves are a great introduction to an overhead environment for the beginner, as there are several different exit points and plenty of light from above. The shallow coral shelf also houses a wide variety of reef life, the exploration of which is the perfect way to complete your safety stop.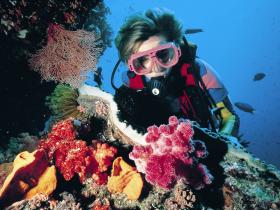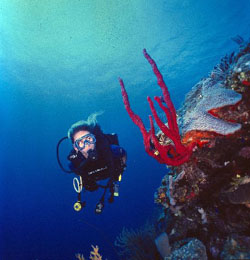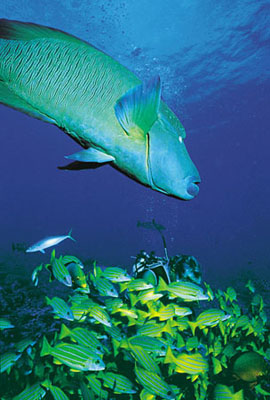 CROC CAVERNS 6m - 12m: Experienced divers only - 50 + dives
Another cave/cavern system but this is a bigger one! Entrance through a well hidden fissure in the reef followed by a chain of interspersed large caverns that affords the diver the likes of lionfish, moray eels, spanish dancers and even sometimes a resident white tip sleeping in a dark corner of the ending cavern
SAND RIVER 14m - 30m+: All
A 'river' of sand sloping progressively downwards to a steep drop off with coral nooks and crannies either side. A great place for seeing sharks in caves along the drop-off, or a beautifully scenic site to just sit and play with the ever-curious reef fish. Swimming across the river above the sand gives the closest feeling to weightlessness you'll get this side of space.
PARADISE 12m - 24m: All
A site rich with fish life and a coral landscape that provides a stunning backdrop. This is a site for the explorer, with plenty to see in and around all the swim throughs and bommies. Keep an eye out for the huge numbers of fish that will come in close to have a good look at you and see if you can spot the local 'celebrity' fish 'Monty' and 'Tommy'.
MATAVERA DROP OFF 16m - 30m+: All
The Matavera drop off gives a real sense of how deep the ocean around our small island really is. Anchoring in a shallow reef area full of fish life is a lovely way to begin and end your dive. Within a short swim, you will be able to see the drop off as the reef falls away underneath you, and maybe see some of the local shark population sleeping on the slopes, unconcerned by your presence.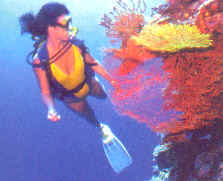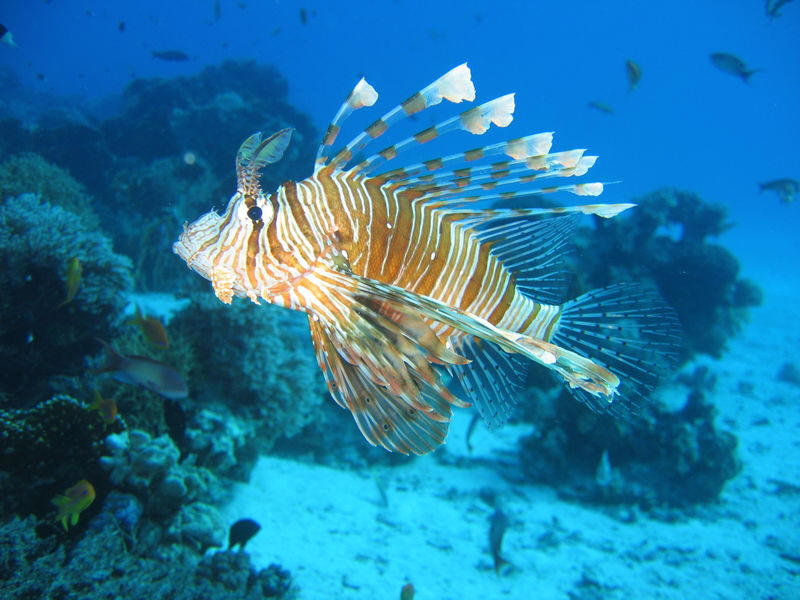 EDNA's ANCHOR 12m - 30m+: All
Coral running alongside a sand area that leads into a sandy drop off. See the anchor caught between two large coral bommies at 24m. This is an ideal dive for all levels. Those qualified can experience the drop off's full splendor from a deeper perspective while shallower dives give a wide view of its curving nature. This is the perfect site to get yourself stuck into exploring and see what you can see.

MATAORA 12m - 20m All
The Mataora, once a Tongan registered 395 hp cargo vessel, 44.25m in length and 299 gross tonnes was purchased on the 11th Dec 1990 for the massive sum of $1! She started her last voyage to the sea bed a couple of days later and now lies in 18m just off the reef to the north of the island. This is a great place to search out those lionfish, even the rarer oscillated variety.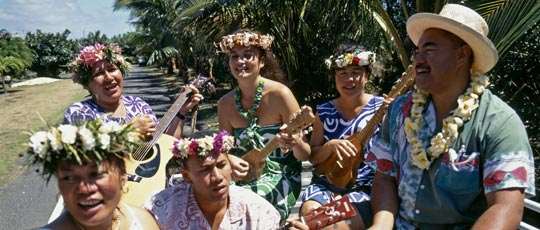 MUSHROOM FOREST 18m - 24m: Advanced OW+
This rich coral area is very similar to Paradise but much more pronounced mushroom shaped bommies rising all around, making this a truly picturesque dive site. This is a great place to explore, and a favourite with eagle rays in season.
PAPUA PASSAGE 8m - 22m: All
Explore around a natural opening in the reef with a chance of seeing Eagle rays swim over the sand below.
JADE REEF 16m - 26m: Advanced OW+
A recent addition to our favourites list! A beautiful coral bommie laden site with some big overhangs and a sudden, eerie end of coral at 26m. This somehow must be the preferred choice for white tip reef sharks as they seem to like it here!
BERNIE'S REEF 18m - 30m: Advanced OW+
A slightly deeper dive of coral bommies and diverse marine life. There is a drop-off at 30m, which is great to swim out over and see what lurks below! This is the place to explore the depths and see what you can find!
NGATANGIIA DROP OFF 18m - 30m: Advanced OW+
Ok, so can anyone pronounce that?!? A beautifully scenic dive with lots of coral bommies creating interesting formations to swim around and explore. As the name suggest, there is also a drop-off, which makes for an interesting diversion!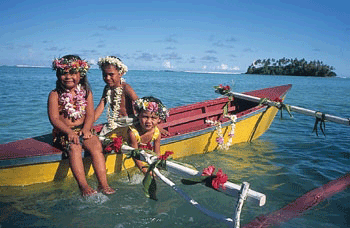 Aitutaki
Click on the aerial view to go to Dive Aitutaki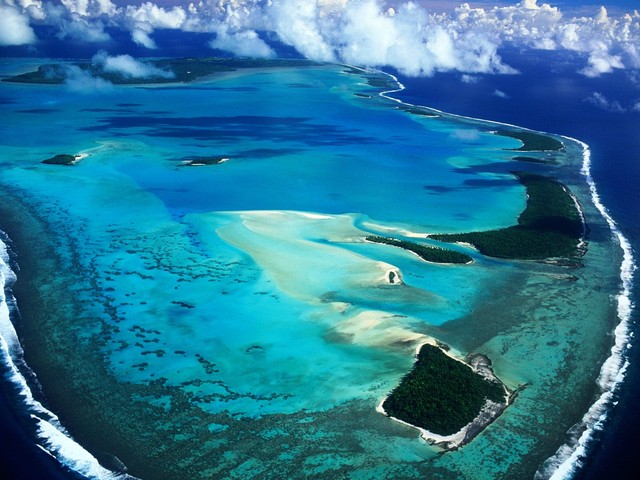 Aitutaki Lagoon's spectacular fringe reef is an excellent diving area with walls, wrecks, caves, coral and an amazing variety of sea life in untouched conditions. Dive one of the most pristine places in the Pacific. The waters over the reefs of Aitutaki are abundant with marine life and their amazing clarity allows you to see so much more. The geological formation of Aitutaki provides divers with some fantastic wall and canyon dives.
Take an early morning plunge and follow the swift current as it shoots through the main passage of Arutanga - out to the open ocean. See the schools of Trevally entering the lagoon for their morning pillage, experience the thrill of diving with a great variety of sharks and in the latter part of the year, watch the great whales play. Aitutaki Scuba have been diving the waters of this volcanic atoll for over 15 years and they know where the action is.
Travel Tips
Currency: New Zealand Dollar Code: NZD Symbol: NZ$

Electrical Plugs: 240V 50Hz Same as Australia

Languages Spoken: Official: Maori, English

Time Zones: GMT -10

Weather: Seasonal variations are slight in the Cook Islands, with temperatures ranging between 18°C and 28°C (64-82°F) in the winter months (May to October) and 21°C and 29°C (70-84°F) in the summer (November to April).
The wet season is from December to March, when around 25cm (10in) of rain can fall each month; this is also the most likely time for cyclones, which are becoming more frequent due to warming seas across the South Pacific. The wet season is also the hottest and most humid time of the year - it can get quite sticky and uncomfortable, so bring along some cool, light clothes. The winter nights can sometimes be quite cool, even chilly, so if you're visiting at this time of year, a warm sweater or jacket will probably come in handy.
You get a better rate for travellers' cheques than for cash, however there aren't many place you can change travellers' cheques or change cash - Avarua, Aitutaki and a few hotels. You're better off changing all your money on Rarotonga rather than hoping to do it on the outer islands.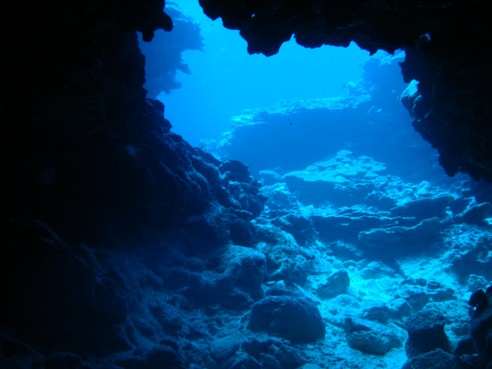 Tipping: There's a value added tax of 12.5%. This is included in prices already. Tipping isn't a custom in the islands, and haggling over prices is considered extremely rude.
Departure Tax:
Adults N.Z. $30,

Children under 12 years NZ$15,

Children 2 years and under are exempt.
This must be paid upon departure, and is not included as part of prepaid taxes with airline tickets.
Departure tax can be purchased from the Westpac Bank at the International Terminal (Open for all International Flights), or at Westpac Bank in the main town Avarua.
Health: Hospital and medical facilities in the Cook Islands are limited, particularly in outer islands, and evacuation may be required in serious cases. Treatment may be expensive and you may be required to pay in advance. If medical evacuation is required to New Zealand or Australia, be aware that flights to these destinations are often heavily booked. Private or chartered evacuation is expensive.
There are no hyperbaric chambers on any of the islands for treatment of scuba diving related injuries. Serious cases of decompression sickness are evacuated to the nearest treatment centre in New Zealand. All registered dive companies carry basic treatment equipment to meet PADI standards.
Outbreaks of the mosquito-borne illness dengue fever occur from time to time. We recommended you take precautions against being bitten by mosquitoes. Tap water in Rarotonga is safe to drink. Outside of Rarotonga it is recommended that all drinking water be boiled or that you drink bottled water.
Visas: For those wanting to stay in the Cook Islands longer than 31 days, you must apply for a visa from your home territory, prior to their arrival in the Cook Islands.
Clothing: The Cook Islands is a very conservative society and you should dress and behave so as not to offend.
Water Temp: 23 - 30 degrees C