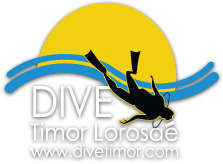 Timor-Leste, formerly known as East Timor, became the world's newest, independent, democratic nation, in May 2002. Situated north west of Darwin, between Australia and Indonesia, East Timor is already beginning to draw small numbers of travelers to the island. With its beautiful, unspoiled beaches, world class scuba diving, spectacular landscapes and rich history, it is easy to see why.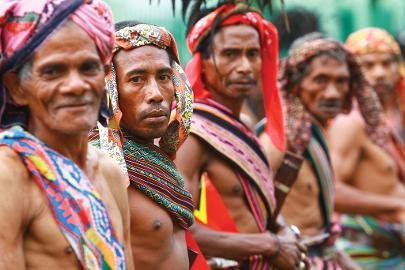 Brief History of East Timor
For centuries the people of East Timor lived a subsistent farming lifestyle in isolated hamlets, scattered throughout the mountainous regions and spoke many different languages and dialects.
In 1512 the arrival of sailors and merchants from Portugal, resulted in the colonization of the island that would last for over 400 years.

During World War II, Timor was invaded by the Japanese who stayed for over 3 years, causing devastation and human misery. During the time of Japanese occupation approximately 50,000 Timorese lost their lives. Following the war, Portuguese rule was restored in East Timor, but development of the country was slow, leaving the Timorese society almost unchanged.

On 28th November 1975, following an attempted coup and clashes between rival political contenders, the Democratic Republic of Timor-Leste was proclaimed. Within 7 days, the new nation was invaded by Indonesia and thousands more Timorese were to lose their lives, during the next 24 years of Indonesian control.

In 1999, a United Nations sponsored referendum, led to the people of Timor-Leste voting overwhelmingly in favour of independence. The declaration of independence was finally implemented on the 20th of May 2002, creating the first Constitutional Government of Timor-Leste.
The people are warm and friendly and look forward to welcoming visitors to their homeland. Be one of the first to explore this unique and exciting island nation and experience some of the best, and as yet untouched, diving in the world.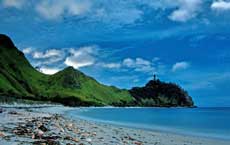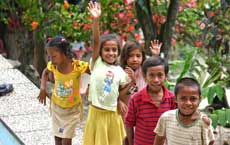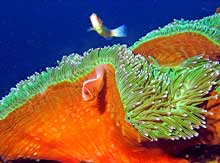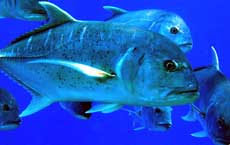 EAST TIMOR ACTIVITIES
Dili is a small but buzzing capital city that spreads along the coast with some beautiful beaches including Dollar Beach and Arreia Branca, interesting museums and markets. At the easternmost point of the city is Christo Rei – the world's third largest statue of Jesus. Relics of the Portuguese occupation, including fortresses, churches and other monuments are scattered throughout the country.
The Nino Konis National Park in eastern Timor Leste consists of tropical lowland rainforest and offers bird-watching, diving, trekking and prehistoric archeological sites.
Ataúro Island and Jaco Island attract divers, snorkelers and eco tourists. In Ataúro, the local fishermen use only traditionally made goggles and spear guns to fish. Ataúro is an excellent place to buy handicrafts, known for its distinctive wooden sculptures and unique dolls.
Trekking tours can be arranged to climb Mt Ramelau (2,963 metres), or to explore Ainaro, Mt. Matebian (Baucau) and Mt. Kablaki in the same district.
Motorcycle and 4WD Tours are a great way to explore the stunning scenery that Timor Leste has to offer as well as to experience the interesting culture in some of the more remote areas of the country.
Scuba Diving in East Timor
East Timor offers the adventurous diver the opportunity to explore the unexplored. The diving is world class with kilometres of majestic walls that drop off into the deep blue sea, acres of untouched reefs, and an abundance of prolific marine life. Diving in Timor Leste gives you a chance to see everything from exciting hammerhead sharks and endangered dugongs to interesting critters like frogfish and ghost pipefish. Dolphins and migrating whales can also be seen around these waters.
The area has some of the most accessible and amazing shore dives with the fringing reef across the northern coast often beginning only a few metres from the water's edge. Boat dives around Dili and out to the pristine, clean reefs of Ataúro Island (1 hour boat trip) are also possible.
Adventurous dive groups may also opt to venture on a Dive Safari along Timor Leste's coastline, ranging from just a 1 night beach camping experience to K51 (51 km east of Dili) to 7 day camping trips stopping along the coast at some of the most remote, beautiful and deserted beaches you can imagine - ending at Tutuala Beach and Jaco island.
Dive Timor Lorosae is Timor's premier PADI dive centre. The professional and friendly staff will guide you to some of the best diving in South East Asia. With their purpose built dive vessels all built and run as per Australian standards, the dive centre can cater for from 2 to 20 divers. All boats are powered by Honda 4 stroke outboards for travel in total comfort and safety.
SOME OF THE MORE POPULAR DIVE SITES:
Pertamina Pier (Dili)
Timor's best critter dive, great for the macro enthusiast. You'll also see plenty of octopus and schooling batfish.
The Pinnacle (Dili – boat dive)
A small reef outcrop just outside Dili Harbour. Great spot as a night dive as the 12 - 30 metre dive attracts local reef sharks, pelagics and turtles, not to mention all the critters that go with diving in these pristine waters.
Ataúro Island
A 1 hour boat ride from Dili is East Timor's most pristine diving area. Around the island there is a variety of dive sites suitable for all levels. Visibility is always excellent and the bio-diversity and unspoilt nature of the coral reefs is simply fantastic. Hundreds of fish, with huge pelagics, gather here. Divers can drift past, carried along by a gentle current.
Big Fish Rock
Deep, fast and an adrenalin overdose. Currents reaching 5 knots whip you past schooling GT's, tuna, mackerel, sharks and turtles. This is an amazing 2 mile reef (a stretch of wall that seems to go on forever) which also has critters galore.
Manta Cove
Set within a towering cliff, this small cove is known for it's steep drop off with overhangs, manta rays, variety of marine life and vibrant corals. The best time to dive this site is in the afternoon when light passes over and through the many ridges creating a spectacular light show.
GUEST HOUSE ACCOMMODATION IN DILI, TIMOR LESTE
DTL Guest House provides some of the most affordable and comfortable rooms in Dili!
There are two Guest Houses, both can be rented as an entire private villa, or you can also simply choose to book individual rooms.
Each Guest House has a communal living room with sofa and dining table, a large flat-screen satellite TV, internet access and large communal western style bathroom with hot and cold running water. In addition there are shared kitchen facilities and courtyard dining area. All bedrooms have air conditioning and their own mini fridge.
If you wish to book out the entire Guest House the only facilities you will be sharing is the kitchen and outside dining area.
In front of both guest houses are two large ceramic wash tanks for divers who have lots of photography equipment. Inside there is also a dry and clean kit area for cameras and tech gear.
Deluxe Studio Apartment Accommodation in Dili, Timor Leste
DTL boasts four Deluxe Studio Apartments that have recently been renovated and are decorated with traditional East Timorese art work.
Each apartment has a private outside courtyard overlooking our swimming pool. A great place to relax and sip on a cocktail at the end of the day.
Each air conditioned studio apartment consists of:
Private fully equipped kitchen
Dinner table to seat four people
Large private bathroom with hot and cold running water
Lounge area with satellite TV and sofa
Free Internet access
TWO BEDROOM VILLA ACCOMMODATION IN DILI, TIMOR LESTE
DTL also has a large two bedroom villa that sleeps up to four people in two spacious bedrooms. The villa has recently been renovated, and boasts a large living and dining area and private outside courtyard space. Villa residents also have direct access to our swimming pool.
This is a great option for families or small groups.
This villa is air conditioned throughout and equipped with:
Private kitchen
Living room with satellite TV
Internet access
Swimming pool
Store room
Car park access