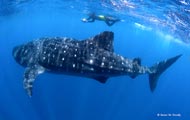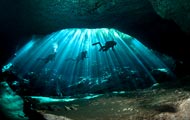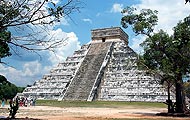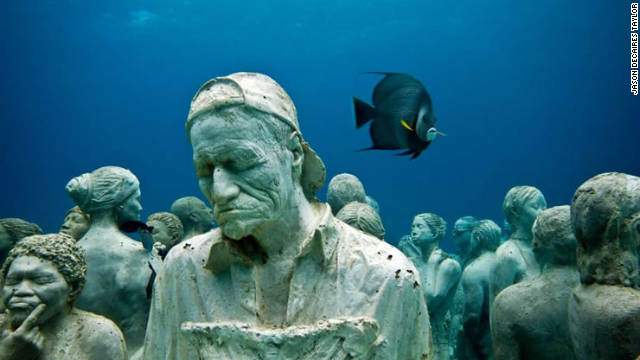 Mexico is a fascinating and extremely diverse country to visit. This great republic is today an assortment of Mesoamerican cultures and modern indigenous tribes, Spanish traditions and a large, vibrant, modern economy.
Mexico's history dates back as far as around 10,000 BC having been populated with the ancient civilisations of the Olmecs, Maya, Toltecs and Aztecs. The first Spaniards arrived in Mexico in 1517 and the Spanish Conquest of the Aztec Empire began in February 1519 under the hands of Hernan Cortez. The Aztec capital of Tenochtitlán was captured in 1521 by Cortez where he subsequently rebuilt Mexico City on top of the ruins of the Aztec capital. This marked the beginning of a 300 year long colonial period during which Mexico was known as "New Spain". The fusion between indigenous and Spanish cultures during this colonial period gave birth to many of today's Mexican cultural traits such as tequila (first distilled in the 16th century), mariachi (18th), jarabe (17th), charros (traditional Mexican horsemen / cowboys) (17th) and Mexican cuisine - a mixture of European and indigenous ingredients and techniques.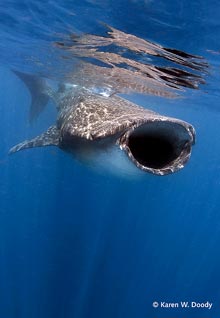 Mexico's diversity extends from its pleasant and warm coastal weather to snow in the Sierra mountains, rainy jungles in the southeast and its iconic cactus strewn deserts in the northwest; its unique food, art and archeology; ancient pyramids, museums and haciendas; the superb architecture of its colonial towns and 21st century cities; numerous golf courses, excellent fishing, and world-class destinations like Acapulco, Cancun, Cozumel, Los Cabos, and Mazatlan along its miles of attractive shoreline.
Mexico has the largest Spanish speaking population in the world and in addition, recognises over 60 indigenous national languages.
YUCATAN PENINSULA AND COZUMEL
The fresh water-filled limestone sinkholes known as Cenotes situated in the state of Yucatan, Mexico lead to some of the most beautiful and intricate underwater caves and caverns in the World. The natural beauty of these cenotes and caves, with its crystal clear turquoise waters, sunlight reflecting stalactites and stalagmites are truly enigmatic works of art drawing divers the world over to explore its waters. With over 3000 Cenotes, 1400 of which have been studied and recorded it's impossible to pick just one as the best. The Riviera Maya has the World's three longest running underwater Cave Systems - Ox Bel Ha (146. km.), Nohoch Nah Chich (61 km.) and Dos Ojos (57.7 km.). Cenote Dos Ojos, Cenote Taj Mahal and Gran Cenote are some of the notable cenotes.
Best Cenote dives Best dive sites in the area: Moc Che Deep, Tortugas, Mama Vina, Cenote Chac Mool, Cenote Dos Ojos, Sábalos, Cenote El Pit
It is possible to dive all year round. Underwater visibility average around 30m. Water temperatures: 26-29C.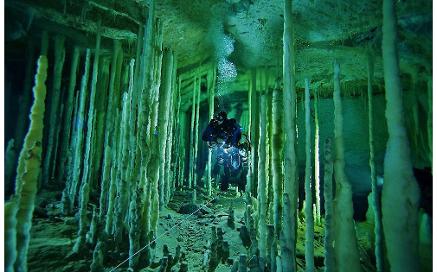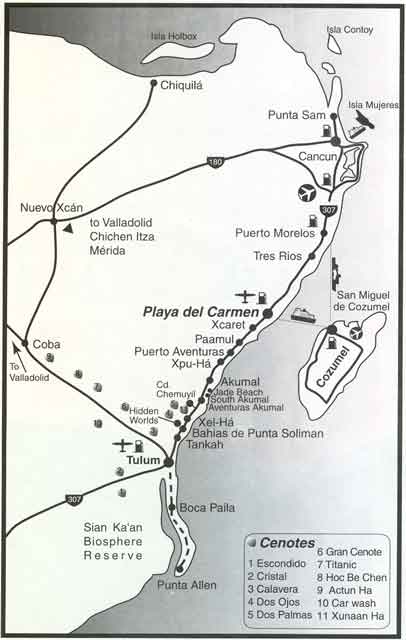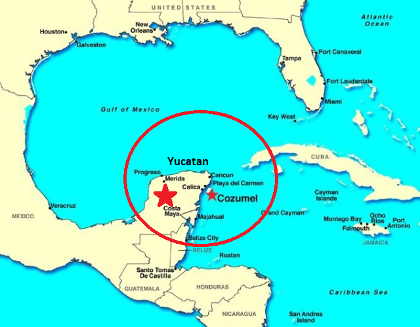 The Great Mesoamerican Reef (the Gran Arrecife Maya) is the second largest barrier reef in the world stretching from the northern tip of the Yucatan in Mexico all the way to the Bay of Islands in Honduras. Dive sites on this reef can be accessed from Mexico along the Mayan Riviera, the coastal stretch between Cancun and Tulum. Here you will find sites to suit divers of all experience levels. Steep walls and drifts dives will be followed by a second dive on shallow, scenic reefs. Eagle rays, turtles, nurse sharks and even whale sharks (Jun-Sep) can all be found amongst schools of smaller reef inhabitants. Then there are the cenotes (flooded limestone cave systems) which have made the Caribbean coast of Mexico world famous.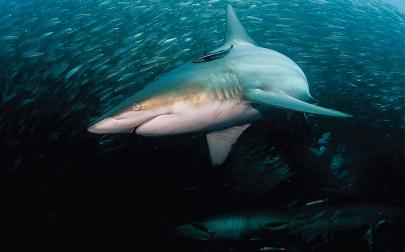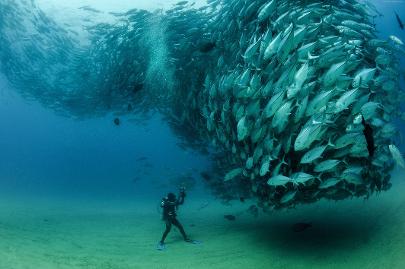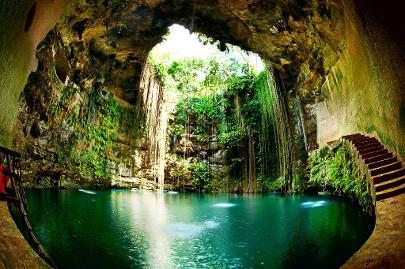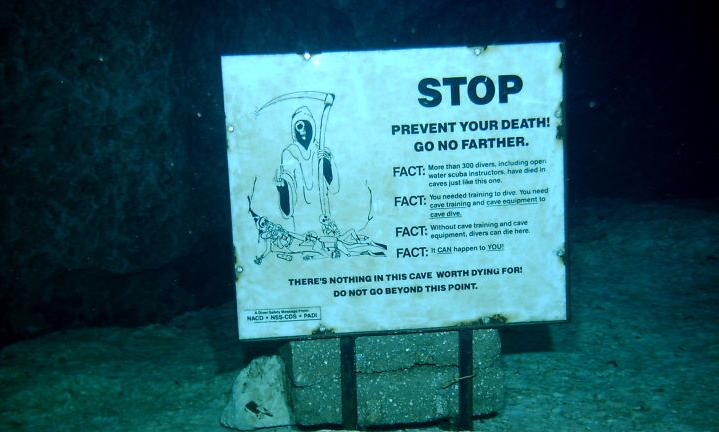 A typical cross section of a cenote: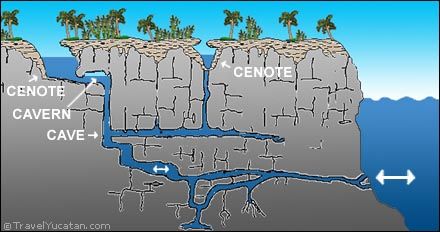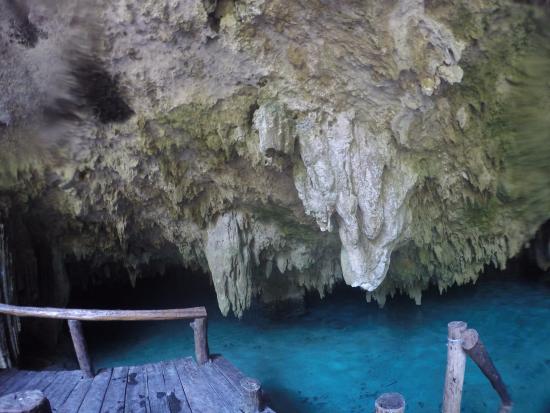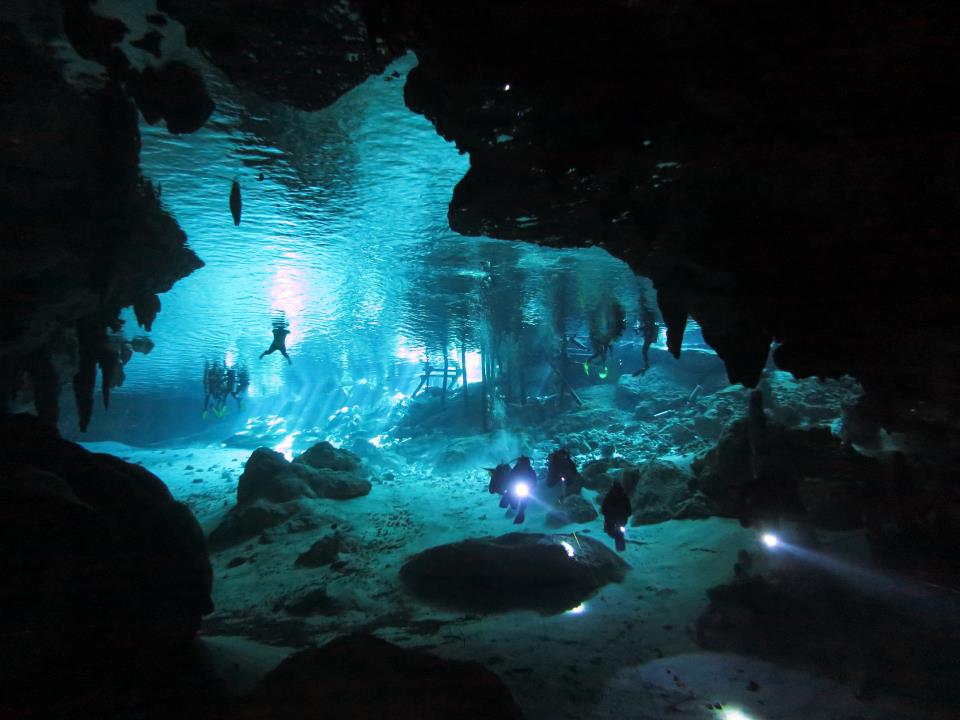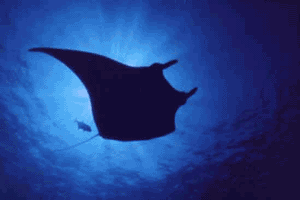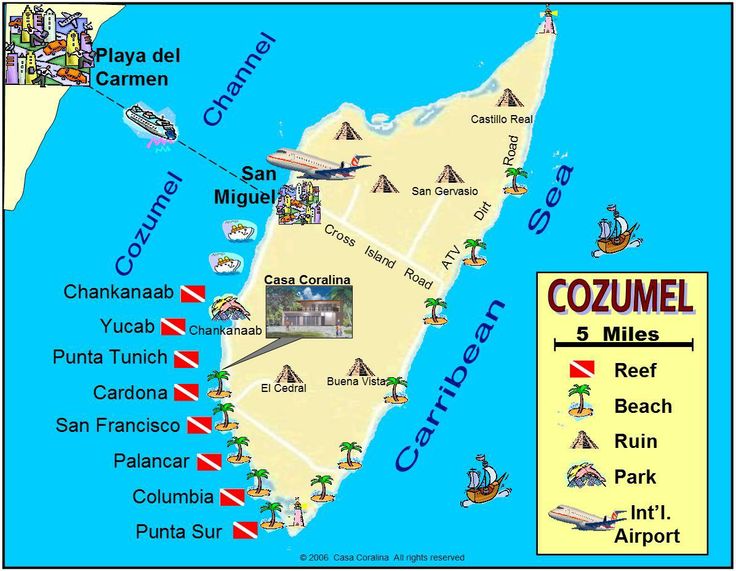 The waters around Baja California also boast some world class diving destinations. To the east lies one of the world's youngest seas, the Sea of Cortez, home to sea lions, manta rays, barracuda, whales and sharks. Guadalupe Island, 240 km off the west coast of Baja California is world renowned for cage diving with the Great White Sharks and 386 km south of Cabo San Lucas is Socorro island, part of the Revillagigedo Archipelago (also known as the Mexican Galapagos), a group of four volcanic islands in the Pacific Ocean. This is where you will find a high concentration of the "big stuff" such as Giant Pacific Manta rays, bottlenose dolphins, whale sharks, humpback whales, at least seven species of sharks and many pelagics.