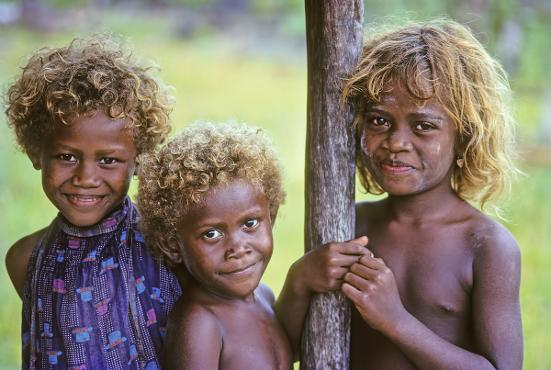 The beautiful image is © Michael McCoy from his book: "Solomon Islands A South Seas Journey". Written and Photographed by Michael McCoy Published by Zipolo Habu, Munda, 2006; ISBN 9789829801111
The Solomon Islands is an exotic wonderland of varied landscapes, rich in cultural and biological diversity. Untouched by 20th century development and tourism, The Solomons offer visitors a feast of unique experiences and adventures.
Note: All dive wrecks in the Solomons are National Heritage and the pilfering of these wrecks is not permitted.
With over 900 islands to explore, there is a great variety of diving & holiday destinations available in the Solomon Islands.
LOCATION, PEOPLE & HISTORY
Location: The Solomon Islands are located 1860 kilometres to the North-East of Australia. Shaped by earthquakes and volcanic activity thousands of years ago, the Solomons consist of 922 islands, 350 of these are uninhabited.

The six main islands of Choiseul, Santa Isabel, Guadalcanal, Malaita, Makira and New Georgia make up most of the 28,000sq km land mass. The landscape is mountainous with 80% of the islands covered in dense rainforest. Located along the Pacific Ring of Fire, there are several active volcanoes and numerous uplifted atolls and coral islands.
People: Most of the population live in small villages and follow traditional cultures and lifestyles with hunting, fishing, carvings, handicrafts and subsistence farming being their main activities. The Solomon Islanders are a shy but friendly people who will make the visitor to their Islands feel most welcome.

History: During World War II the Solomons became a key turning point in the desperate struggle by the Allied forces to repel the Japanese advance in the South Pacific. Most of the heavy fighting was concentrated in the Guadalcanal area, with one of the fiercest encounters in naval history taking place on 13th November 1942. The "Battle of Guadalcanal" extracted heavy losses on both sides.

Hundreds of ships and aircraft litter the ocean floor, providing divers with a wide range of wrecks for scuba divers to explore. These machines and war relics now form spectacular, artificial reefs which attract masses of fish and an incredible variety of coral life.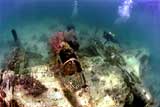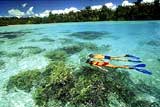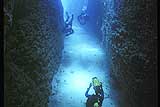 MUNDA
Munda, a 1-hour flight from Honiara, is situated on the southwest corner of the main of island of New Georgia. Munda is ideally located for those travellers who want to get off the beaten track in search of adventure, whilst enjoying good food and pleasant surroundings.
Munda is the ideal place for any traveller and diver to experience the culture, diversity, geography and relaxation of a typical south sea paradise. Munda and surrounding areas, has also become known for having some of the finest diving in the world today, with several renowned war wrecks and spectacular wall diving.
Munda was an important military airfield during WW2 and there are war relics everywhere: In the bushes, on the beaches and in the water. Great wreck diving is available. In the lagoon at Munda, Roviana Island has a colourful history of headhunting, animist religion and tribal wars. On the hill behind the village lie the ruins of an ancient coral fortress protecting the stone dog-idol previously worshipped by the tribe.

From Roviana Island a variety of excursions by motor canoe can be undertaken into the Roviana and Vona Vona Lagoons for snorkelling, fishing and sightseeing: war relics, waterfalls, bat caves, and cultural sites such as the skull islands where the 'trophies' of yesterday's head hunters were stored.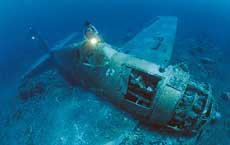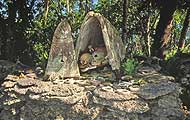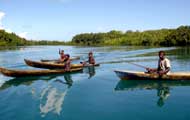 When you land in Munda, you only have a short two-minute walk to Agnes Lodge Resort. The resort is situated right on the waterfront with stunning views out over Roviana Lagoon.
Accommodation:
Originally built as a Government rest house on the unspoiled shores of Roviana Lagoon, Agnes Lodge is now a hotel with 20 rooms, located in several wings and catering for a range of budgets. The Zazala Wing has rooms with double beds, separate lounge and ensuite facilities. The Naru Wing has twin beds with en suite facilities. The lodge has also just completed the Ibibu Wing comprising eight cottages with double or twin beds. All rooms have ceiling fans, coffee-making facilities and small refrigerators. The Orchid Wing, with its three beds and no private facilities, is ideal for backpackers who are prepared to share.
Amenities:
A traditional leaf thatched building on the water's edge, accommodates the lounge bar and an adjoining fully licensed restaurant specialising in local seafood.

Activities:
Activities available to complement the diving and snorkelling are canoe trips, fishing, bushwalks, island picnics, cycling and visits to WW2 sites. Agnes Lodge can also organise a number of tours which include half day trips to tropical rainforests, tours to World War II sites and wrecks, and snorkelling and picnic tours to nearby islands.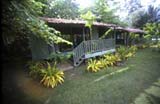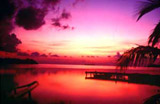 Gizo Island
Toa Maru:
A 135m Japanese ship lying on her starboard side. Sitting in 10-37m of water, this dive site is worth several visits as you can explore the ship's holds containing ammunition, saki bottles and even a two-man tank.

Plum Pudding Island:
Historically interesting as the late U.S. President, John F Kennedy and his crew of the PT 109 were shipwrecked here.

Grand Central Station:
If its underwater action you need then this is the place. The most north-western tip of the Gizo islands is the merge point for oceanic currents and it's here where the fish life, big and small, is at it's best. Large soft corals and fans adorn the walls while sharks; trevally and batfish patrol the waters. A relatively easy dive for all levels of experience and there is no need to go deep to see all the activity.

Hot Spot:
This small pinnacle, one of our discoveries in 1995, comes up to 5m from the ocean's depths of 300-400m. On the swing of the tide, pelagic come into feed on the shoals of bait fish that congregate in and around this off-shore dive site. It is also the home of the most interesting pink iridescent anemone.

American Corsair Fighter Plane:
The pilot of this plane crashed into the sea at great speed and the aircraft is in five recognisable large pieces around the 27-metre level. However the attraction is not only the wreck but also the fantastic marine life on or around it. The reef slope back to the boat is interesting and has its own attraction in a bommie called clown fish city at the safety stop level.

Kennedy Wall:
A superb wall dive off the historic island where the late US President JFK and the crew of the PT-109 swam to after being rammed by a Japanese destroyer. With excellent visibility, this wall, covered in a kaleidoscope of soft corals, dips down to 40m and hosts good pelagic action.

Olasana Reef:
A sloping reef dive revealing a vast array of hard and soft corals is a photographers dream. Famous for huge "elephant's ears sponges" and plentiful fish life, it also hosts several colonies of garden eels on its sandy bottom. Turtles are often seen, as Olasana Island is one of their resting sites.

Naru Gap:
At one of the entrances to Gizo lagoon, "The Gap" experiences great water flows with the changing of the tides. As a result, it has, most aptly, gained a reputation for BIG pelagic fish action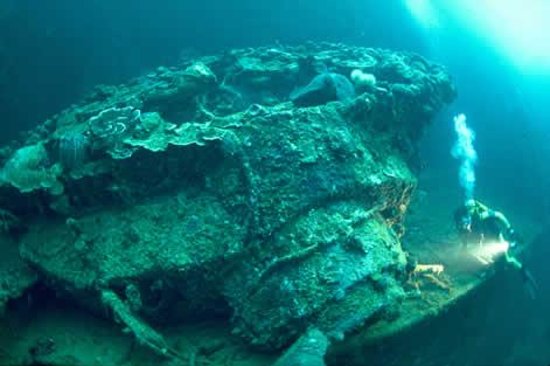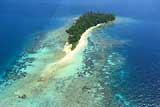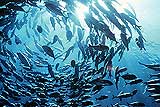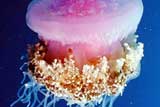 Honiara
Honiara is the capital of the Solomon Islands and of Guadalcanal Province. Guadalcanal was witness to fierce naval battles during WWII and was a turning point in the Pacific campaign. "Iron Bottom Sound" is host to hundreds of wrecks.

Destroyers, minesweeper, troop carriers, transport ships, submarines and planes provide an incredible range of dive sites. Honiara, the nations' capital and international gateway, is the stopover point for travellers wishing to visit some of the land based WWII sites.

Honiara has a harbour from which ferries depart to the various provinces. The gardens of the National Art Gallery are popular, while the reconstructed Government House and the National Museum are worth visiting. The spectacular Tenaru falls can be found a one hour's drive and a three-hour hike from Henderson International Airport.
Tulagi
Located in the middle of the Solomon's, The Florida Islands offer some of the best diving to be found anywhere in the Pacific. The Islands are about 35 km north of Honiara across the famous Iron Bottom Sound.

Tulagi was the original capital of the Solomon's but was severely damaged during WWII and was replaced by the new capital, Honiara, after the war. There several notable wrecks surround Tulagi, as well as many interesting reefs and underwater features.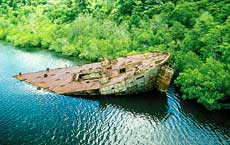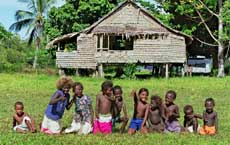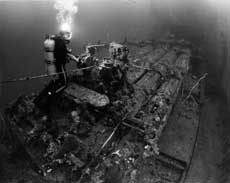 Uepi Island Resort is perched on the edge of the largest lagoon in the world. This area of the Western Province, offers opportunities for visitors to experience the culture of local people whilst relaxing in a tranquil environment.

Uepi Island is approximately 2.5 km long and up to 600 metres wide, and the whole area, aside from the resort's cultivated tropical gardens, is covered with tropical rainforest interspersed with walking tracks.

Guests can participate in a variety of activities or simply relax. The lagoon side of the island has a sandy beach, with clear shallow water suitable for swimming, paddle and sail boarding, and canoeing. Uepi Resort is the only operation on this remote island.
There are no villages on the island. Guests can book at the Resort for trips to the nearby villages and rivers to enjoy the local culture and natural beauty.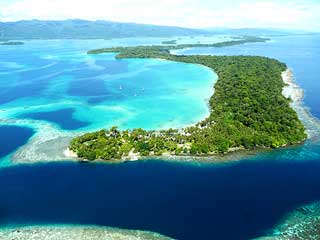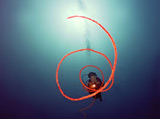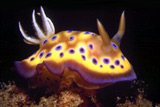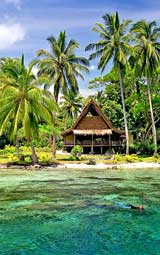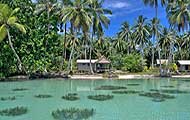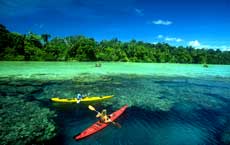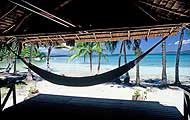 Uepi has magnificent reef diving. Dive sites vary from coral gardens with magnificent drop-offs, ledges and gutters featuring an enormous diversity of reef fish. Turtles, mantas and eagle rays are fairly common sights, as well as the (friendly) Uepi hammerheads.
Many of Uepi's dives are conveniently located within a 5 to 10 minute boat ride from the resort. Uepi also has some wreck diving. There are three wrecks lying in Wickham Harbour, all are Japanese freighters sunk by the US during World War 2. All are upright, relatively intact and display varying degrees of artefacts and marine life. All wreck dives are excursion dives and they are approximately one hour from Uepi by boat.
Uepi Island sits on the meeting place of several major currents, making it an excellent place for both drift dives and stationary dives, allowing you to watch the activity of the reef play out before you.
When diving in Uepi, it's common for divers to stay in the water for an hour or so on each dive because the top 5-10 metres have endless species to discover, allowing a diver to get maximum value from each dive. Rarely will you view such high concentrations of fish, sponges and corals in such a diverse environment, ranging from coral gardens to vertical drop-offs into 2000 metres of ocean, most within the confines of a three kilometre reef. Water clarity is usually very good and water temperature is about 28−30 °C.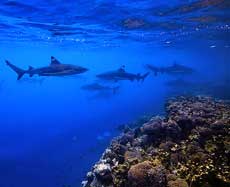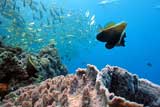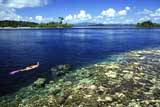 WILDERNESS LODGE (Gatokae Island)
Located on the edge of a tropical lagoon on Gatokae Island, the Wilderness Lodge is an idyllic destination to escape from everyday life. The waters surrounding Wilderness Lodge are teeming with colourful fish and corals. Suitable for all levels of snorkelers and scuba divers.
Situated near Peava village, the lodge features traditional construction using sago palm leaf, wild bitalnat palm and village-sawn hardwood with exotic timber and pandanus mat interior.
Catering for a maximum of 12 guests, the lodge has been designed to meld the atmosphere of the Gatokae rainforest and ocean with the lifestyle of the neighbouring small village whilst retaining Western comforts and convenience.Oceanfront bungalows feature traditional sago palm leaf roofs and polished hardwood interiors for the ultimate in cool tropical living.
The lodge has prime access to the three wild and uninhabited islands of Bulo, MaleMale, and Kicha, the 2900 foot jungle-clad peak of Mt Mariu, and ancient fortified villages and ceremonial sites. Explore the incredibly diverse marine and terrestrial ecosystems and the fascinating old culture of ritual headhunting which persisted into the twentieth century.
Self-guided coastal walks, endless natural and cultural photo opportunities, exploring Bulo Island in an outrigger canoe, trolling for dozens of different species of fish, night hunting coconut crabs in the rainforest with flashlight and coconut baits, learn about the unique culture and history from the village people, climbing Mt Mariu.

Take a motor canoe trip up the wild Gevala River, explore ancient fortified villages deep in the rainforest, visit the village gardens and learn subsistence agriculture techniques, boat trips taking in the incredible scenery of Gatokae and Marovo Lagoon, see the world-famous woodcarvers of Marovo at work in adjacent Peava village or visit Kavachi Submarine Volcano (weather permitting).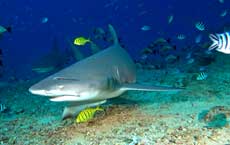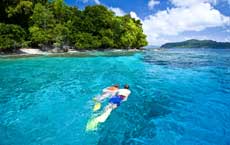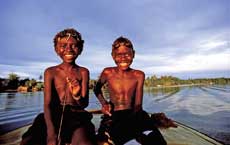 Solomon Islands Travel Tips
Time Zone: Solomon Islands Standard Time is 11 hours ahead of Greenwich Mean Time (this is 1 hour ahead of Australian EST).

Currency: Solomon Island Dollar. Australian dollars are accepted at most major resorts catering to Australian visitors. Credit Cards are accepted in some resorts. Carrying some cash is advisable.

Health: Visitors are strongly recommended to take a course of anti-malaria medication. See your doctor for advice and prescription. It is also advisable to take a personal first- aid kit. It is not recommended to drink the local water. Bottled water is available.

Visa Requirements: For most nationalities a visa is not necessary, a 30-day visitors permit is issued on arrival. However, all visitors must have a current passport, return or onward ticket and adequate funds to support the duration of their stay.

Departure Tax: SBD$40.00 departure tax (approx. AUD10.00) payable upon departure.

Electricity: Where available, 240 volts. 50 cycle A.C.

Tipping: Not encouraged. Visitors to the Solomons are usually asked to refrain.

Language: The predominant language is English.

Dress: Light casual clothing, not too brief especially outside your hotel.

Climate: Average daytime temperatures of 26-33 degrees Celsius, down to 22-30 degrees Celsius at night. The southeast trade winds blow from April to October. This time of the year is characterised by fine, dry weather. December to March is the "wet" season - the northwest monsoon. These months are warmer, more humid and experience the occasional tropical shower.

Water Temp: Generally ranges from 27-31 degrees Celsius.