SELECTED DIVING IN SOUTH AUSTRALIA
NOTE: Much of the content for Port Lincoln is sourced from and copyright of Dive Adventures Australia.
Port Lincoln - Cage Diving With Great White Sharks
Mt Gambier - Cave Diving
Wreck - Ex-HMAS Hobart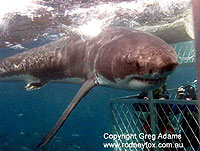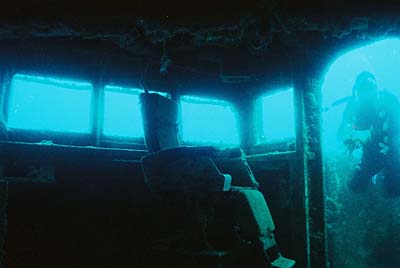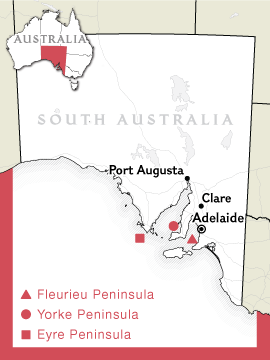 Port Lincoln: Cage Dives - Great White Sharks
Port Lincoln is located on the Spencer Gulf, which empties into the Southern Ocean, the world's last true marine wilderness. It is home to the most spectacular and rarest of the world's sea creatures such as the blue whale, giant squid and Australian sea lions.

More importantly, it is the home of the ocean's ultimate predator otherwise known as the White Pointer Shark. There are very few locations in the world where you can access the Great White Shark as they are solitary oceanic creatures mostly inhabiting the open sea.

The Spencer Gulf empties into the mighty Southern Ocean and here the Great White reigns supreme, having no natural enemies other than man. These spectacular fish reside at the top of the food chain and normally feed on whales, seals and sea lions, culling the weak, sick and injured as opportunities present themselves.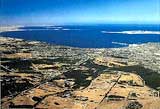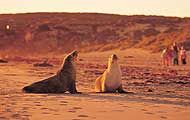 Travel Information
Getting There: Port Lincoln is 652 km by road, and 45 minutes by air from Adelaide, South Australia's capital.
Climate: Diving with Great White Sharks is available from August to November & Jan to March of each year. Traveling during these periods will give you the highest probability of encountering these amazing creatures. The water temperature is usually a bit above 16°C (60°F) during the operating season.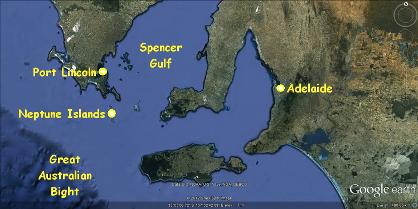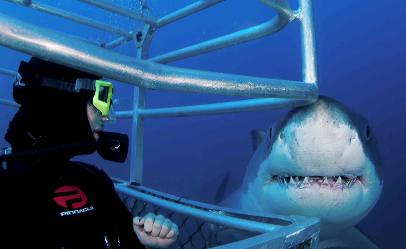 CAGE DIVES - GREAT WHITE SHARKS
Visit the Calypso Star website.
Visit the Rodney Fox Shark Experience website.
Your cage diving adventure begins at Port Lincoln Airport where the skipper will meet you. A short drive will deliver you to the Calypso Star at the Port Lincoln marina. This vessel is 17m of pure luxury with accommodation for eight plus two crew. Prior to arrival at the shark diving destination a short detour will be made to allow you to swim with, film and photograph our Australian Sea Lions (weather permitting).
Upon reaching the destination, the crew commence chumming the water with fish blood and offal. The Great White, like all sharks will literally smell this from miles away and quickly track it to its source.

This is where the action begins as they start feeding on the chum and offal in the water. Nothing is spared as these massive creatures test their teeth on everything including the boat and dive cage. Now it is time to enter the cage where you can meet your shark on a more personal level. The thrill of your first encounter with a great white shark in its natural environment will last a lifetime and the power and grace of this magnificent creature will leave you over-awed.
1 DAY SHARK CAGE DIVING TRIPS
A day trip is great for anyone who does not have enough time to spend out at sea but would like to have a short introduction to cage diving with Great White Sharks. Calypso Star takes up to 42 passengers for these day trips and is the only Advanced Eco Certified one-day charter operator with a license to berley (chum). This provides the best opportunity to attract the sharks to their vessel in a short amount of time.
You do not need to be a certified diver to experience the Great Whites with Calypso Star Charters. Get in the water with the Great Whites in their 8 person surface cage. All up you will have approximately 45 minutes of cage viewing time in total on a one day trip. The sharks can also be viewed from the boat as they are brought in close enough to see the action from above.
Calypso Star Charters is fully licensed by the South Australian Department of Environment. Along with this license, they are Advanced Eco Certified and the Captains' are Eco Certified Guides. Receiving this certification provides the recognition they conduct operations in a way that are environmentally conscious and sustainable whilst also providing an educational component.
SWIM WITH SEA LIONS
One of the most interactive wildlife tours you can do! See why the Australian Sea lions are nick named the 'puppies of the sea'. A half-day tour to the pristine Hopkins Island, Blythe Island or Langton Island to meet the endangered Australian Sea Lions, and have the privilege and opportunity to swim with these gorgeous animals in their natural environment. During the months of September to May limited weekly departures are available to minimise the impact to their colonies.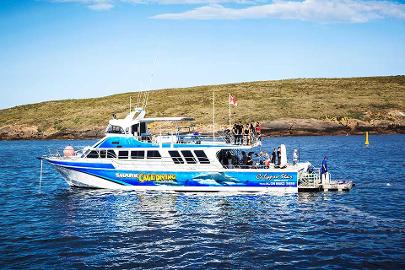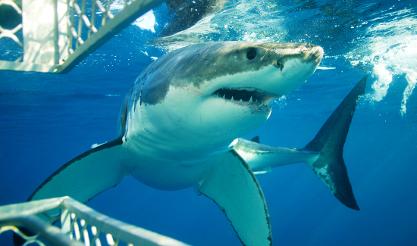 MV Calypso Star II Facts
Launched in October 2011 after an extensive refit, the custom built MV Calypso Star II is a 19.95 metre long all weather capable vessel with a cruise speed of 16 knots. She is ultra modern and comes with all the comforts required for a 1 day trip out to the Neptune Islands in order to maximise your Great White Shark viewing adventure.
No. of Guests :42

Air Conditioning

Fully enclosed spacious saloon with lounge style booth seating

Full galley serving breakfast, morning tea, lunch, afternoon tea and snacks

Licensed bar onboard

Electricity:

240V 50Hz

Photographic Facilities

Two rear mounted and two front mounted cage cameras that live stream action back to a screen in the saloon area for live underwater viewing

Covered main deck with outdoor seating, 2 fresh hot water showers and 2 full flush toilets; Large upper deck for shark viewing; Huge swim platform to carry the 8 person shark cage and Hiab crane.

Satellite communication and navigation systems

Up to 5 Crew, Skipper, Engineer, Host and Deckhand

Also the opportunity to see dolphins and sea lions

Note:

Disposable underwater cameras available for purchase on board. Highlights Pack (CD and DVD) of the day's events available for purchase at the end of the trip
Filming, Diving and Research Expeditions with Rodney and Andrew Fox.
Since pioneering shark cage diving nearly 50 years ago, Rodney Fox and his son Andrew have been at the very forefront of human interaction with Great White Sharks. As primary advocates for these creatures, their expeditions and research have educated the public and attracted adventurers from around the world. The Rodney Fox research program; special talks on shark biology, research and photography; boat tours and superb onboard facilities, ensures every level of diver and non diver alike is accommodated with the most rewarding great white experience available in the world.
Rodney Fox Shark Expeditions is the only operation in the world to take qualified scuba divers all the way to the ocean floor to see great white sharks. Here on the bottom of the Southern Ocean you can enjoy vastly superior shark viewing opportunities as well as being surrounded with other local sea life, including the world's largest stingrays, southern eagle rays, giant blue wrasse and many other fish species found nowhere else.
They also encourage everyone to participate in surface cage dives by simply breathing air from a surface fed air supply. The dive masters gently and patiently encourage and guide all new divers and non divers to dive from the floating surface cage.
All tours have the immense advantage of a liveaboard agenda including limited group numbers and maximum cage time.
Princess II Facts
Rodney Fox's liveaboard expedition vessel is "Princess II", a 23 metre long, steel hulled vessel providing comfort, space and the facilities to cruise safely in the clear, blue, offshore waters of the Neptune Islands. There are multiple cages for cage-to-cage photography. The floating surface cages, including a single person cage, allows non-divers to view the sharks in their natural habitat whilst a 1.5 tonne deck crane for lifting and lowering diving and research equipment enables the Princess II to feature a special submersible shark cage to take certified divers down to the ocean floor for an unbeatable Great white observation experience.
No. of Guests:

12

Cabins:

6 twin/double cabins with private bathroom

Individually air conditioned cabins

Saloon:

Lounge room style with bar for relaxation and special talks

All meals are provided and prepared in a commercial galley

Alcoholic beverages available at additional cost

Electricity:

1 x 80 & 1 x 32Kw generators, power outlets 110/240V 50Hz

Photographic Facilities:

Deck tables and dry camera table; Large camera rinse tanks

Large water level dive platform; Warm freshwater deck shower; Large upper deck with lazy boys

Satellite communication and navigation systems

Dive Guides

Two onboard air compressors for scuba tanks & Hookah set up

Gear Hire: Available on board. Limited underwater cameras/videos available for hire.

Limited DIN converters available.

Support Vessel:

Dive tender Naiad 5.8m for exploration of the offshore islands wildlife and scenery

Experienced, safety trained crew

Special talks on shark biology, research and photography; snorkel with the sea lions (weather permitting); boat tours of the Neptune Islands

Washing machine and clothes dryer available onboard.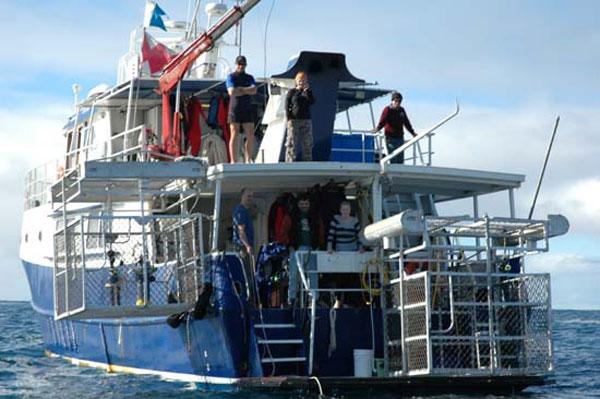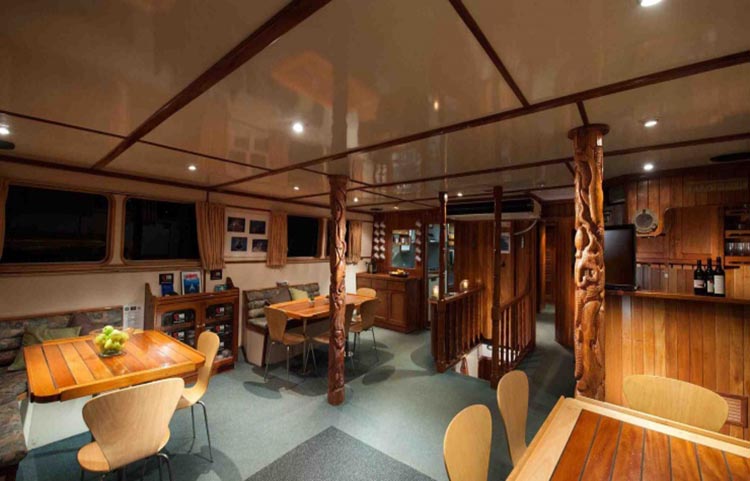 The CDAA categorises dive sites on four different levels due to their level of technical difficulty when diving. To dive in a site of a particular rating you need to be trained and certified to that level. In addition, some sites require prior experience in other locations of the same rating before access is granted. The three levels of training are Deep Cavern Diver, Cave Diver and finally Advanced Cave Diver.
I can honestly say, the training provided by the Instructors at CDAA is outstanding - it has been arguably the most exciting, challenging and confidence building activity I have ever done with diving! Much of the information here is taken form their website.
CDAA TRAINING
The adventure starts with Deep Cavern Diver. This entry level training develops the minimum skills and knowledge for deep cavern diving including the planning, organising and the procedures, techniques and problem solving required in a variety of cavern and sinkhole diving situations. This is an excellent introduction to freshwater diving that is open to all Advanced Open Water qualified divers who have logged a minimum of 12 months open water experience.
The next step is Cave Diver. During this training Deep Cavern qualified divers study the theory and develop the practical skills required to safely undertake diving activities in a CDAA rated Cave sites.
The final step in your formal education is Advanced Cave Diver. This training is open to all Cave qualified divers and on it you develop the minimum skills and knowledge for advanced (penetration) cave diving including the planning, organisation, procedures, techniques, self reliance and problem solving in a variety of cave diving situations. Upon completion of this training course divers are expected to continually develop their skills with ongoing education and experiences with regular cave diving.
CDAA Rated Dive Sites
The CDAA categorises dive sites into three different levels due to their level of technical difficulty when diving. To dive in a site of a particular rating you need to be trained and certified to that level. In addition, some sites require prior experience in other locations of the same rating before access is granted. The three categories are Deep Cavern (includes Cavern and Sinkhole sites), Cave and Advanced Cave.
Of course, whilst most of these sites are in the Mt Gambier region some are also in Wellington, NSW and the Nullabor Plain, WA. Without training, the only site available to general scuba divers is Ewen Ponds.
Deep Cavern (Cavern/Sinkhole)
CAVE
ADVANCED CAVE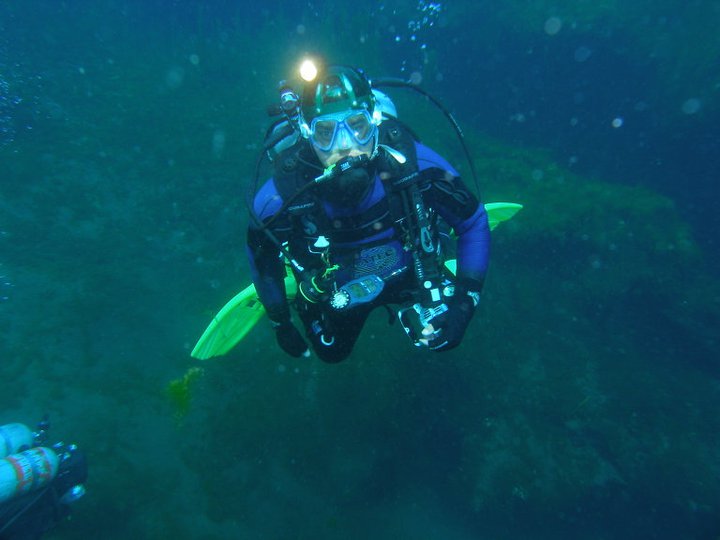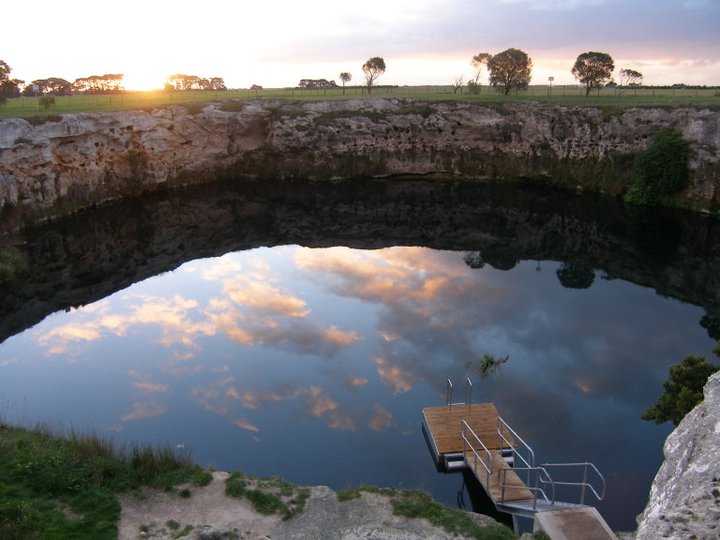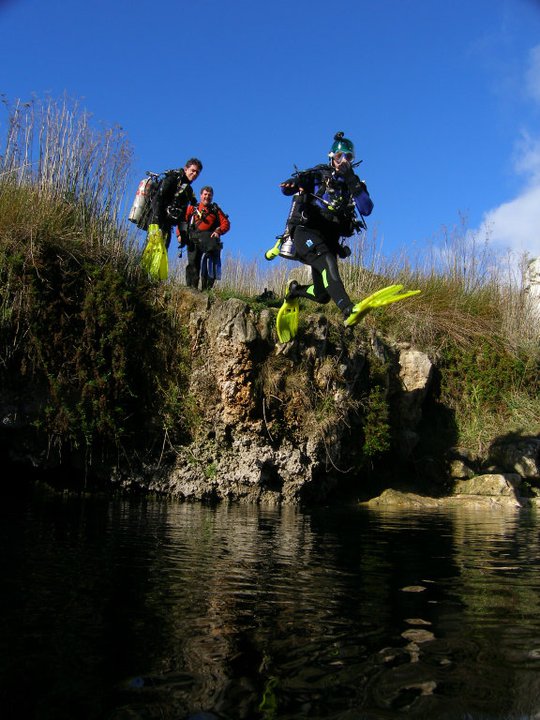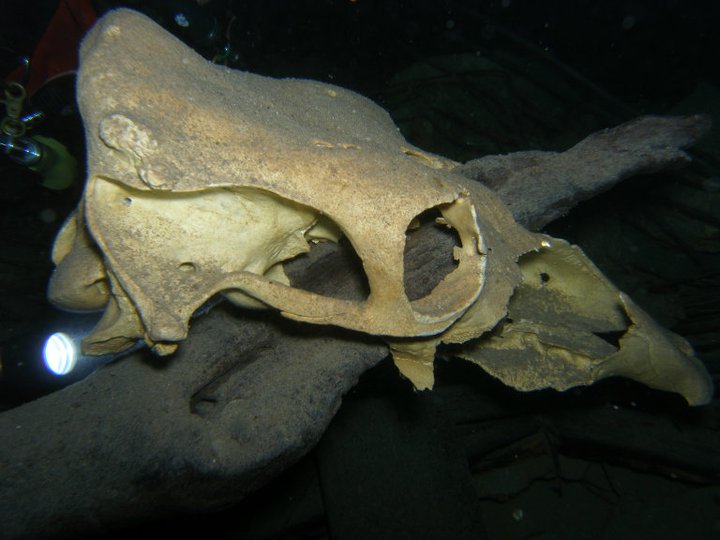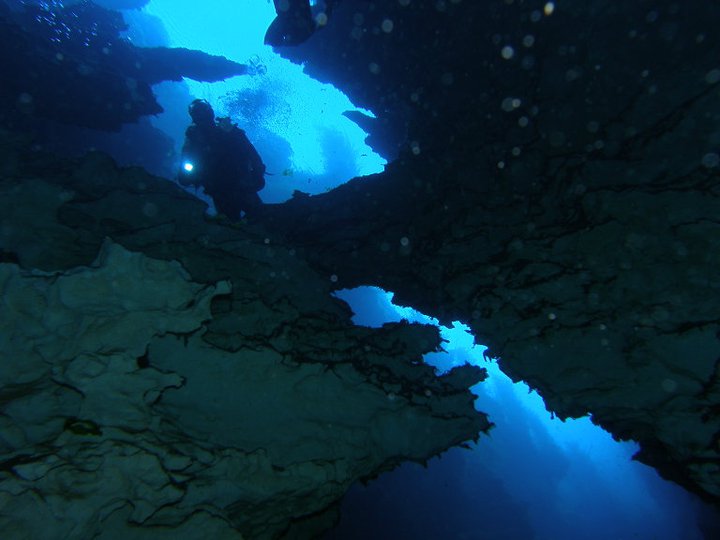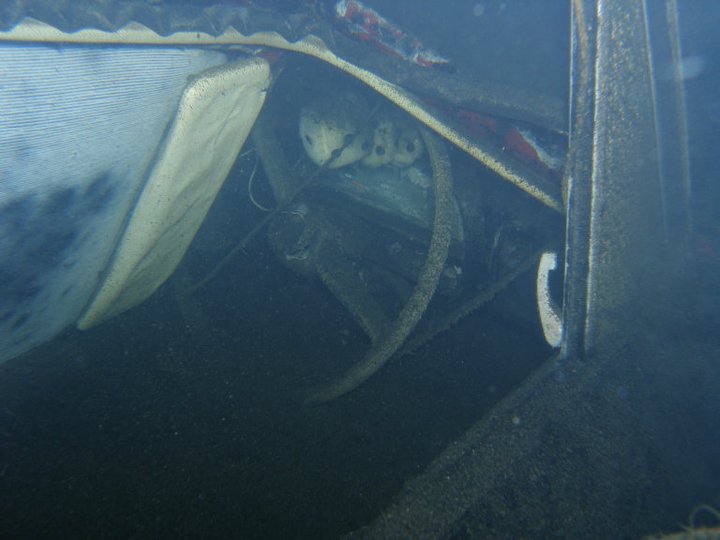 Ewens ponds is the ONLY site open to all open water certified scuba divers. Visibility can reach 80m!!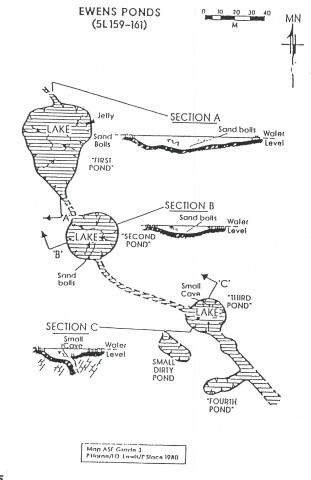 Acknowledgements
Dive sites this database update: 2014
© Cave Divers Association of Australia
Originally one of Australia's great naval destroyers, the ex-HMAS Hobart is now one of Australia's most accessible and exciting war wreck. Scuttled on November 5, 2002, at Yankalilla Bay, the ship is now a premier eco-tourism dive site, home to an array of marine flora and fauna and a declared a marine reserve. It's also a lasting memorial to the ship and its crew, and a valuable tourist attraction for South Australia.
A short 10 minute boat ride from Marina St Vincent, the Hobart enjoys underwater visibility of more than 10 metres most of the year. The water clarity, the massive fish populations and the giant vessel make this an exciting dive experience.
A total of 9 moorings have been installed. Five are for accredited dive tour operators and four for recreational divers using their own boat.
She lies in 30m of water, reaching to within 5m of the surface.
Length: 133.2 metres
Beam (width): 14.3 metres
Displacement: 4,720 tonnes
Click on the logo below to go to a Dive Centre that specialises in diving this wreck.