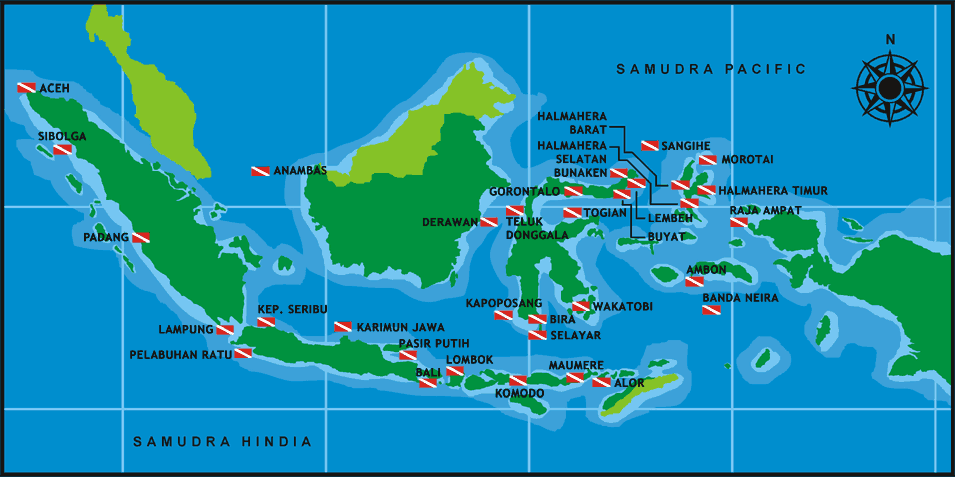 Image above: Copyright © Mike Smith | divex@gmx.net
The Republic of Indonesia is the largest archipelago in the world stretching for 5,150 km comprising 17,508 large and small tropical islands fringed with white sandy beaches. Over 11,000 islands are still uninhabited. It straddles the equator between the Pacific and Indian Oceans.
Indonesians have developed cultural identities over the centuries influenced by Indian, Arab, Chinese, Malay and European sources. Indonesia fascinates with her rich diversity of ancient temples, music, ranging from the traditional to modern pop, dances, rituals and ways of life, changing from island to island, from region to region. Yet everywhere the visitor will feel welcomed by the warm, gracious innate friendliness of the Indonesian people that is not easily forgotten.
Indonesian cuisine has been shaped by the varying influences that have formed Indonesia's identity. Rice is the main staple food with spices (notably chili), coconut milk, fish and chicken making up many of the key ingredients.
Most of the population follows Islam. The national language is Bahasa Indonesia.
Indonesia's abundance of coral reefs attracts a multitude of marine life, from tiny little critters to large fish and marine mammals. The most popular places to dive in Indonesia are Bali, Gili islands, Manado, Wakatobi, Komodo National Park and Raja Ampat.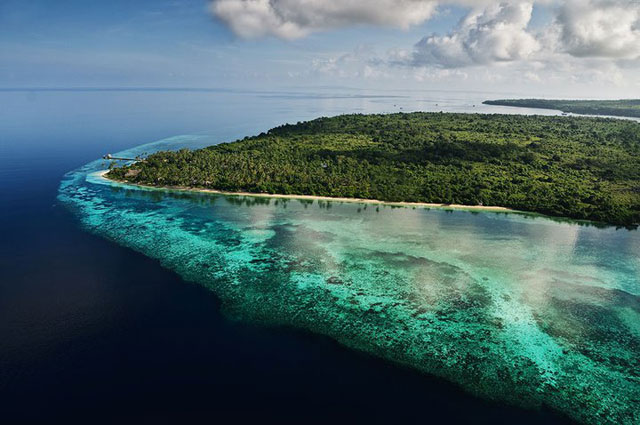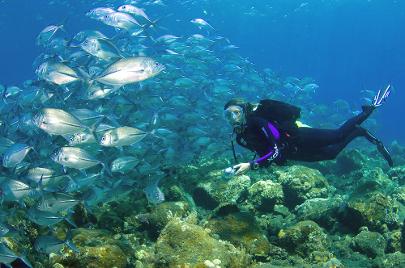 Because of Indonesia's location and geology, the country is blessed with the most diverse landscape, from fertile ricelands on Java and Bali to the luxuriant rainforests of Sumatra, Kalimantan and Sulawesi, to the savannah grasslands of the Nusatenggara islands and the snow-capped peaks of West Papua. But Indonesia still has many unexplored islands with grand mountain views, green rainforests to trek through, rolling waves to surf and deep blue pristine seas to dive in.
There are a number of wildlife species indigenous to Indonesia such as the "orang utan" apes of Sumatra and Kalimantan, the giant, prehistoric "Komodo" lizards which are the only ones of their kind in the world today roaming free on the island of Komodo; the one homed rhinoceros of Java, the wild "banteng" oxen, tigers and many other species which are now protected in wildlife reserves. Indonesia is also the habitat of the Rafflesia the world's largest flower, wild orchids, an amazing variety of spices, and aromatic hardwood and a large variety of fruit trees.
Underwater, scientists have found in North Sulawesi the prehistoric coelacanth fish, a "living fossil" fish, predating the dinosaurs living some 400 million years ago.
Scuba Diving in Indonesia
Indonesia forms one corner of the Coral Triangle, which is the epicentre of the world's marine biodiversity. With 20% of the world's coral reefs, it is one of the ultimate scuba diving destinations. Some dive destinations are situated in marine conservation parks.
There are over 3,000 fish species and 600 species of coral. The diving is diverse with steep walls, deep-water trenches, underwater volcanic mountains, World War II wrecks, pelagic life, an endless variety of macro life and extraordinary muck diving.
Many destinations have excellent land-based diving, while some remote areas are best approached by liveaboard.
THE MAIN DIVE DESTINATIONS IN INDONESIA INCLUDE:
CLICK THE DESTINATION FOR MORE INFORMATION
South Bali (Nusa Penida, Nusa Lembongan, Sanur) – for Mola Mola and Manta Rays
East Coast of Bali (Padang bai, Candidasa, Tulamben, Amed) - USAT Liberty wreck, a WWI US Army transport ship sunk in 1942
North West Coast of Bali (Menjangan Island, Permutaran, Lovina, Gilimanuk) – spectacular wall dives at Menjangan and a muck diving paradise at Secret Bay
Lembeh Strait – famous for muck / critter diving
Bunaken National Park - wall diving, coral gardens and biodiversity
Bangka Island – drift dives, steep pinnacles and pelagics
Currents and cool upwellings create two distinct marine environments in this UNESCO World Heritage Site. Komodo has it all - Big fish capital of Indonesia, critters, manta rays, hard and soft corals, unspoilt coral gardens, pinnacles and drifts and the fearsome Komodo dragon.
Has the highest biodiversity in the world - remote and unspoilt with 74% of all the earth's known corals, almost 1,400 species of reef fish and more than 600 species of hard coral.
Has one of the most photographed house reefs in the world – a macro photographer's delight, outstanding corals and underwater vistas.
Gili Trawangan, Gili Meno and Gili Air - known for their turtles and drift dives along walls, ridges, canyons and slopes. Good for snorkeling.