Vanuatu is an idyllic holiday destination for scuba divers, as well as travellers seeking a little adventure in paradise.

The semi-tropical climate has a temperature range from between 23°C and 28°C. The Melanesian people, known as Ni Vanuatu, have populated the islands for centuries.

They are a gentle, peace-loving people, intent on enjoying life's simple pleasures. The native language spoken is Bislama with English and French also widely spoken.

The capital, Port Vila, is a delightful, waterfront town situated on the main island of Efate. Vila has a cosmopolitan image offering great duty free shopping, sidewalk cafes as well as an excellent selection of fine cuisine restaurants. Accommodation ranges from lodges and self-contained studio apartments to tourist class hotels and deluxe resorts - all within easy reach of the town centre.

The island of Espiritu Santo, approximately one-hour flight north of Vila is a lush tropical get away with the white beaches. Santo attracts divers like a magnet, and this main attraction is to explore the wreck of the "S.S.President Coolidge".

Tanna Island is approximately one hours flight south of Port Vila. Tanna is a land of unique contrasting landscapes boasting an active volcano, accessible by 4-wheel drive safari, centuries old customs, mysterious cargo cults and beautiful wild horses.
Vanuatu, a chain of 83 tropical islands in the South West Pacific, is only a few flying hours from Australia.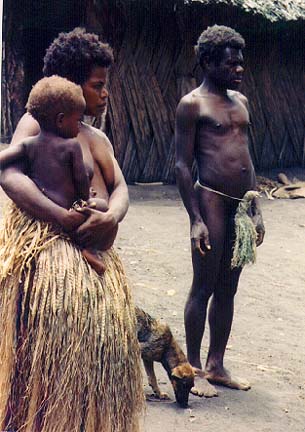 SCUBA DIVING IN VANUATU
Diving in Vanuatu is varied and interesting, from the easy protected waters of the marine sanctuary, to shallow reefs, deeper drop-offs and sunken wrecks, all in crystal clear waters teeming with fish life. Port Vila offers a variety of dive sites and a variety of marine life, with running currents bringing in the pelagic species.

The landscape beneath the water mirrors that found above: mountainous terrain with plunging cliffs, grottoes and overhangs, huge caves and intricate interconnecting underwater tunnels and chasms formed by frozen lava - and life abundant over all.

Port Vila: Port Vila offers divers a range of options and operators to choose from, each of which pick up and return divers to their hotels. Many of the best dive sites are only minutes away. Diving is well supervised and interesting, with several sunken ships in the protected waters of the bay.

There is the wreck of the 1874 built sailing ship "Star of Russia", a three masted sailing ship in 36 meters of water. An island trader scuttled in the harbour "Konanda", and the ex-Qantas Sandringham flying boat "Tasman". Further out in the bay is the "Semle Federeson" now sitting in 36 meters plus of water.

Santo: The 33,000 tonne converted luxury liner, the S.S. President Coolidge, sank during WWII after hitting a mine, and now rests in depths of 21 - 70 metres. The impressive wreck is one of the most exciting and accessible to sport divers worldwide.
PORT VILA
Situated on the main island of Efate, Port Vila offers an excellent selection of accommodation that varies from deluxe resort-style to self-contained studio apartments - all within easy reach of the town centre. Port Vila is located around a magnificent natural harbour offering stunning views of nearby islands. It is Vanuatu's international gateway and remains the only town on the island. The airport is only a few minutes from town and all major resorts and hotels. The crystal clear waters and waterfront area is so unpolluted; visitors are stunned to look down from the seawall and see live corals and tropical fish.

For the tourist in Port Vila there is plenty to do. Whether it be taking in a quick introduction tour of Port Vila's sights, visiting the local downtown Port Vila markets, playing a game of golf, horse riding along the beach or taking a stroll up to the Mele Cascade waterfalls through lush tropical bush to admire the view.
espiritu SANTO
One island in Vanuatu, more than any other attracts divers like a magnet - Espiritu Santo. The island that inspired James A. Michener to write his classic "South Pacific."

Approximately 50 minutes flying time from Port Vila to Santo, Air Vanuatu operates daily services between the 2 islands.

Santo is from a time past. People still come from within the jungle to trade for a few basic necessities, then blend quietly back into the shadows, amongst the WWII Dakotas and old hangers that are scattered in the thick tropical jungle and serve as silent reminders of the American occupation of the island. One of the major diving draw cards of Santo is the S.S. President Coolidge, a World War 2 troop transport wreck.

Santo boasts some of the most beautiful beaches in the world. Powdery white sand with invitingly warm, crystal-clear water fringed by magnificent shady palm trees.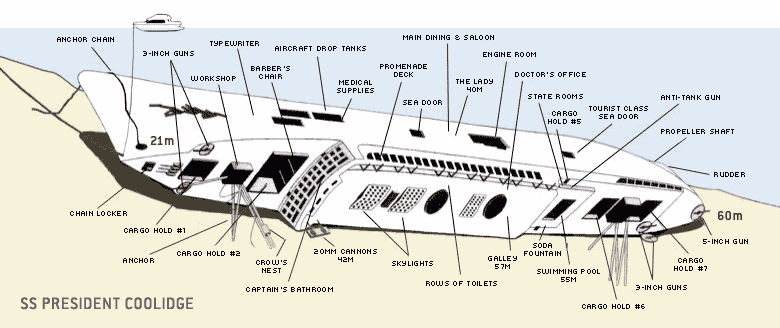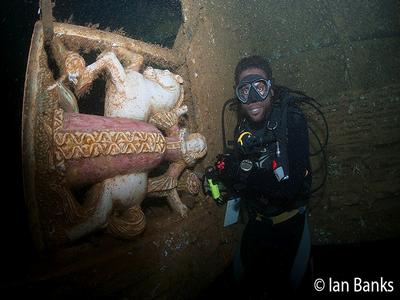 Tanna
One of the most remarkable islands in the Pacific Ocean. Tanna boasts an active volcano, centuries old lifestyle, mysterious cargo cults and beautiful wild horses. The Tannese people live a traditional lifestyle and practice the ancient customs of their ancestors.

Just one hour by plane South of Port Vila, this untouched island of thick tropical jungle is home to Yasur, the world's most accessible volcano.

Yapilami Falls, located deep in a rain forest, a most spectacular cascade of water, falling several hundred feet into a large pool at it's base. Port Resolution, named after Captain Cook's ship "Resolution" which landed there in 1774. Visit the hot springs. Other points of interest on Tanna include spectacular white and exotic black sand beaches, flying fox caves, coastal blowholes and a coffee plantation.
Languages:

English, French and Bislama (pidgin).

Currency:

Vatu is the local currency but Australian dollars are accepted as legal tender. Major credit cards are widely accepted.

Health:

Malaria precautions may be necessary when visiting the outer islands. See your doctor for advice and prescription or check with the Department of Health.

Visas:

Visas are NOT required for Australian citizens, most Commonwealth countries and the USA including dependencies.

Electricity:

220-240 volts 50Hz.

Tipping:

It is against Melanesian custom.

Dress:

Light and casual but not too brief, especially outside your hotel. Tropical clothes for evening wear, open necked shirts, no ties.

Climate:

Summer is from November to March, average 28° C. Winter from April to October average 23° C.

Water Temp:

Varies from 20° C to 27° C.